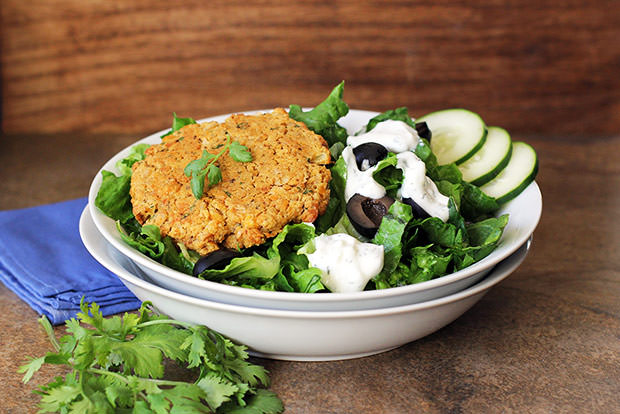 Topping your salad with falafel is a delicious way to add protein and fiber, creating a more filling meal. Making your own falafel allows you to control the sodium, and baking the falafel reduces unhealthy fat. This yogurt-based dressing also helps you keep both fat and calories in check.
Tip: Baked falafel is prone to crumble, which makes it great as a salad topper. To prevent crumbing the patties before serving, let the falafel rest before flipping it and allow it to cool before serving. You can also make smaller patties and serve two with each salad, but watch it closely as you may need to adjust the baking time.
Nutrition Facts
Serving Size 1/8 recipe
Amount Per Serving
% Daily Value*
Trans Fat 0g
10%
Total Carbohydrate
29.5g
Sugars 4.4g
*
The % Daily Value (DV) tells you how much a nutrient in a serving of food contributes to a daily diet. 2,000 calories a day is used for general nutrition advice.
Yield: 8 servings
Preparation time: 20 minutes
Baking time: 40 minutes
Ingredients
Falafel
2 (15.5 oz) cans of low-sodium chickpeas, rinsed and drained
¼ cup diced onion
¼ cup chopped cilantro
3 cloves garlic, minced
Zest of 1 lemon
Juice of 1 lemon
2 tbsp tahini
1 tsp ground cumin
1 tsp ground coriander
½ tsp salt (optional)
½ tsp baking soda
¼ tsp ground black pepper
¼ tsp ground cayenne pepper (optional)
1 tbsp olive oil
Dressing
7 oz. low-fat plain Greek yogurt
1 medium cucumber
Juice of 1 to 2 lemons
2 tbsp crumbled feta cheese
1 tsp dried dill
½ tsp garlic powder
1/8 tsp salt (optional)
Salad
16 cups mixed lettuce
2 (6 oz.) cans of whole black olives, rinsed and drained
Directions
Preheat the oven to 375 degrees Fahrenheit.
Add all the falafel ingredients, except the olive oil, to a large bowl. Use a potato masher to mix and mash the ingredients. Mash until the beans are slightly chunky and the mixture will form into a patty.
Form the mix into eight patties and place them on a baking sheet lined with a silicone mat or a baking sheet coated well with cooking spray. Brush half of the olive oil over the tops of the patties.
Bake for 17 to 20 minutes until they become firm and begin to brown. Remove from the oven and let sit for 2 to 3 minutes. Use a large spatula to flip the patties carefully. Gently reform any patties that crumble. Brush with the remaining olive oil and bake for 17 to 20 more minutes, until browned and firm. Let cool completely.
While the falafel bakes, make the dressing and salad. Place the yogurt in a medium bowl. Cut about 1/3 off of the cucumber. Peel it, remove the seeds, and chop fine. Add it to the yogurt. Slice the remaining cucumber to serve with the salad.
Stir in enough lemon juice to reach your desired consistency. The more juice, the thinner your dressing will be. Stir in the feta, dill, garlic powder, and salt (if using) and set aside.
To serve the salad, divide the lettuce, sliced olives, and cucumber slices into eight bowls. Top each with a falafel patty and serve with the dressing on the side.