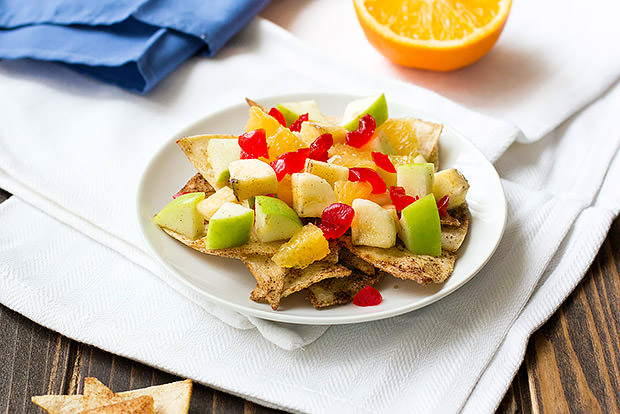 Turn one of your favorite foods into a healthier sweet treat with this recipe. Baked corn tortillas with cinnamon provide a crunchy chip that is lower in saturated fat. They are perfect for scooping up fiber-rich fresh fruit salad. Feel free to substitute any of your favorites fruits for the ones used here.
Nutrition Facts
Serving Size 1/4 recipe
Amount Per Serving
% Daily Value*
Trans Fat 0g
15%
Total Carbohydrate
45.4g
Sugars 17.6g
*
The % Daily Value (DV) tells you how much a nutrient in a serving of food contributes to a daily diet. 2,000 calories a day is used for general nutrition advice.
Yield: 4 servings
Preparation time: 15 minutes
Broiling time: 2 minutes
Ingredients
8 small corn tortillas
1 tsp olive oil
1 tbsp granulated sugar
½ tsp + 1/8 tsp ground cinnamon
1 Granny Smith apple, cubed
1 orange, segmented and chopped
1 medium banana, chopped
Juice of 1 lemon
4 maraschino cherries, finely chopped
Directions
Preheat the broiler and spray a baking sheet with non-stick cooking spray.
Cut each corn tortilla into 8 pie-shaped wedges and place them in a medium bowl. Pour in the olive oil, sugar and a ½ teaspoon of the cinnamon. Toss the tortillas to coat them well with the oil, cinnamon, and sugar. Place them in a single layer on the baking sheet.
Broil the tortillas for about 2 minutes. During this time you will need to watch them closely. Carefully flip them with tongs about every 30 seconds. They may brown unevenly, so remove the chips individually from the pan as each one gets browned and crispy.
In a medium bowl, stir together the apple, orange and banana. Pour in the lemon juice and the remaining 1/8 teaspoon of cinnamon. Toss to mix all ingredients well.
Divide the tortilla chips evenly among 4 serving plates. Top each with ¼ of the fruit salad. Sprinkle on an equal amount of chopped maraschino cherries to each plate just before serving.