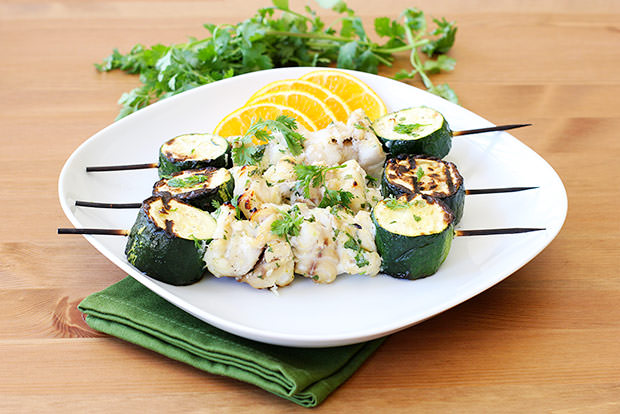 Grilled kebabs allow you to simultaneously cook lean protein and fresh vegetables for a quick and convenient meal. This version combines firm white fish with summer squash for a light, healthy dinner option perfect for warmer weather.
Tip: Pacific rockfish was used in this recipe, but Pacific halibut or another firm white fish can be substituted.
Nutrition Facts
Serving Size 1 skewer
Amount Per Serving
% Daily Value*
Trans Fat 0g
2%
Total Carbohydrate
5.4g
Sugars 3.1g
*
The % Daily Value (DV) tells you how much a nutrient in a serving of food contributes to a daily diet. 2,000 calories a day is used for general nutrition advice.
Yield: 4 to 6 servings
Preparation time: 30 minutes
Grilling time: 15 minutes
Ingredients
Fish
½ cup fresh squeezed orange juice
¼ cup chopped fresh cilantro
3 cloves garlic, grated
1 tbsp olive oil
¼ tsp salt
1/8 tsp ground black pepper
1.5 lbs. firm white fish, cut into 24 large pieces
Squash
2 medium zucchini, cut into 12 large pieces
1 tsp olive oil
1/8 tsp salt
1/8 tsp ground black pepper
6 grill skewers or wood skewers (pre-soaked)
Directions
Fish Prep In a medium bowl, whisk the orange juice, cilantro, garlic, one tablespoon olive oil, 1/4 teaspoon salt, and 1/8 teaspoon ground black pepper. Add the fish pieces and stir to coat. Let marinate for 15 minutes.
Squash Prep Place the zucchini in a large bowl. Add one teaspoon of olive oil, 1/8 teaspoon of salt, and 1/8 teaspoon of ground black pepper. Stir to coat the zucchini with oil and seasonings.
Preheat the grill to medium-high (about 400 degrees Fahrenheit). Prepare the kebabs by sliding on one piece of zucchini, four pieces of fish, and a second piece of zucchini for each skewer.
Brush the grill grate with olive oil. Grill the kebabs for 4 to 6 minutes, flip, and grill for 4 to 6 additional minutes until the fish flakes and the vegetables are tender.
Additional Resources
Seafood Watch — Monterey Bay Aquarium's guide to sustainable seafood.