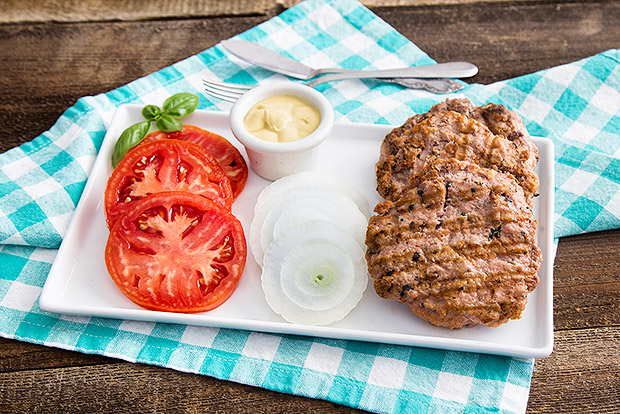 Lean ground turkey provides protein with fewer calories and less saturated fat and cholesterol than ground beef. These burgers are loaded with flavorful basil, garlic and grated Parmesan cheese for a taste that mimics your favorite pesto.
Nutrition Facts
Serving Size 1 burger
Amount Per Serving
% Daily Value*
Trans Fat 0g
0%
Total Carbohydrate
0.7g
Sugars 0.1g
*
The % Daily Value (DV) tells you how much a nutrient in a serving of food contributes to a daily diet. 2,000 calories a day is used for general nutrition advice.
Yield: 4 burgers
Preparation time: 15 minutes
Grilling time: 15 minutes
Ingredients
1 lb. ground turkey (about 93% lean)

2 tbsp chopped fresh basil leaves

2 tbsp grated Parmesan cheese

1 clove garlic, minced

1 tbsp olive oil

1 tbsp finely chopped raw walnuts

¼ tsp salt

¼ tsp ground black pepper
Directions
Mix all ingredients in a large bowl until the seasonings are evenly distributed throughout the ground meat. Form the meat into 4 patties.

Spray the grill grate with non-stick cooking spray and heat the grill to high. Grill the burgers for 10 to 15 minutes, flipping once halfway through. Use a meat thermometer to ensure they have reached an internal temperature of 165 degrees Fahrenheit before serving.