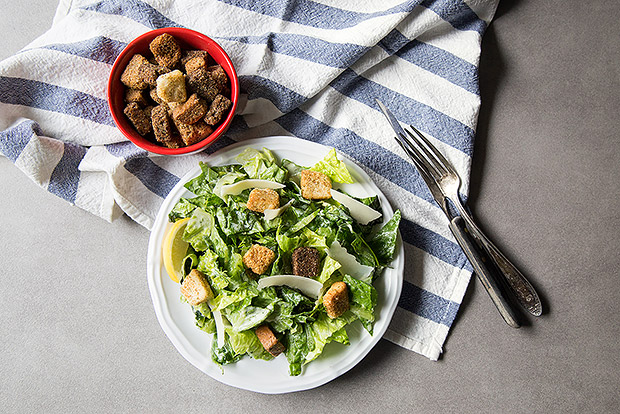 Grilling romaine lettuce is a great way to make summer salads more creative while keeping them nutritious and low in calories. This is a quick and easy side dish you can add to the menu any time you are grilling.
Nutrition Facts
Serving Size 1/4 recipe
Amount Per Serving
% Daily Value*
Trans Fat 0g
1%
Total Carbohydrate
3.6g
Sugars 2.2g
Vitamin C 33%
Vitamin A 31%
*
The % Daily Value (DV) tells you how much a nutrient in a serving of food contributes to a daily diet. 2,000 calories a day is used for general nutrition advice.
Yield: 4 servings
Preparation time: 10 minutes
Grilling time: 5 minutes
Ingredients
3 tbsp fresh lemon juice
2 tbsp non-fat plain Greek yogurt
1 tbsp olive oil mayonnaise or low-fat mayonnaise
2 tbsp chopped fresh dill
1 tbsp chopped fresh chives
1/8 tsp garlic powder
1/8 tsp fine ground sea salt
1 large head romaine lettuce
Optional toppings: croutons, shaved Parmesan cheese
Directions
Add the lemon juice, yogurt, and mayonnaise to the cup of a single-serving blender or small food processor. Pulse for 10 to 15 seconds until blended. Add the dill, chives, garlic powder, and salt. Pulse again until all ingredients are mixed into a smooth dressing.
Place the head of lettuce on a grill that has been heated to 375 to 400 degrees Fahrenheit. Use tongs to continually flip the lettuce to get even wilting on all sides. Grill for 3 to 5 minutes, until the outer leaves have wilted and start to show signs of blackening.
Transfer the head of lettuce to a cutting board. Remove the stem end and chop the leaves into bite-size pieces. The outer leaves will be warm and wilted, and the inner leaves will still be crisp and cool.
Put the lettuce in a large bowl. Pour in the dressing and toss with tongs until all the lettuce is evenly coated in dressing. Serve with croutons and shaved Parmesan, if desired.