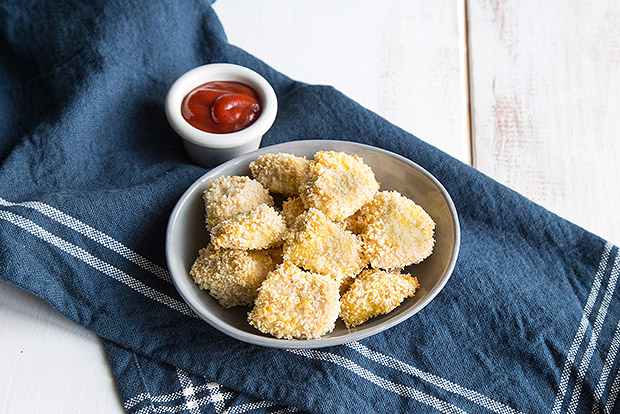 When you recreate your favorite fast foods at home, you can enjoy a similar meal with fewer calories and less saturated fat and sodium. These chicken nuggets are coated in seasoned bread crumbs and baked until crispy. Serve them as a main course or as an easy party snack.
Nutrition Facts
Serving Size 1 serving
Amount Per Serving
% Daily Value*
Trans Fat 0g
4%
Total Carbohydrate
12.2g
Sugars 1g
*
The % Daily Value (DV) tells you how much a nutrient in a serving of food contributes to a daily diet. 2,000 calories a day is used for general nutrition advice.
Yield: 4 servings
Preparation time: 15 minutes
Baking time: 20 minutes
Ingredients
1 lb. boneless skinless chicken breasts or tenders
1 large egg
1 cup panko bread crumbs
¼ tsp garlic powder
¼ tsp fine ground sea salt
1/8 tsp ground black pepper
Directions
Preheat the oven to 400 degrees Fahrenheit.
Cut the chicken into bite size pieces. Make sure all pieces are of similar size for even baking. Spray a baking sheet with non-stick cooking spray and set aside.
In a shallow dish, whisk the egg until blended. In a separate shallow dish, stir together the bread crumbs, garlic powder, salt and black pepper.
Dip the chicken pieces in the egg, and then roll them in the bread crumbs to coat evenly. Place the chicken nuggets on the baking sheet. Repeat until all pieces are coated.
Bake for 20 minutes, or until the bread crumbs are browned and the chicken is no longer pink in the middle. Serve warm.