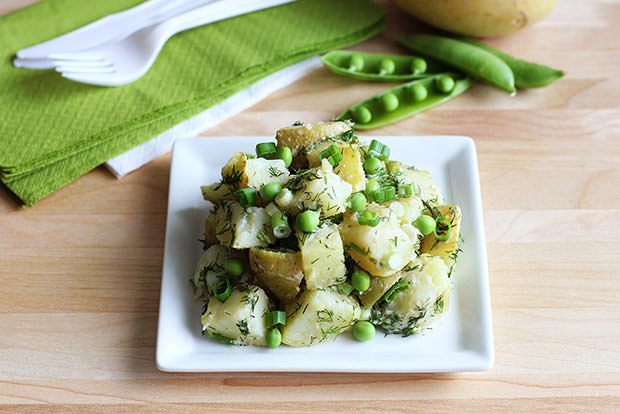 Potato salad is a staple at spring potlucks and picnics, but too much added fat and salt can make it an unhealthy choice. This recipe uses fresh spring garden favorites like peas and dill for added flavor. It's mixed with a dressing made of Greek yogurt and Dijon mustard that reduces both the total fat and calories.
Nutrition Facts
Serving Size 1/6 recipe
Amount Per Serving
% Daily Value*
Trans Fat 0g
8%
Total Carbohydrate
25.5g
Sugars 2.1g
*
The % Daily Value (DV) tells you how much a nutrient in a serving of food contributes to a daily diet. 2,000 calories a day is used for general nutrition advice.
Yield: 6 servings
Preparation time: 15 minutes
Ingredients:
4 medium baked potatoes, cubed (skin-on)
¼ cup fresh spring peas, blanched if desired
3 green onions, sliced
½ cup fresh spinach or kale leaves, finely chopped
¼ cup low-fat plain Greek yogurt
2 tbsp Dijon mustard
2 tbsp chopped fresh dill
¼ tsp salt
1/8 tsp ground black pepper
Directions
Place the cubed potatoes, peas, onions, and spinach in a large bowl.
In a small dish, stir together the yogurt, mustard, dill, salt, and pepper. Pour the dressing over the vegetables and stir to coat.
Refrigerate for at least 30 minutes before serving.