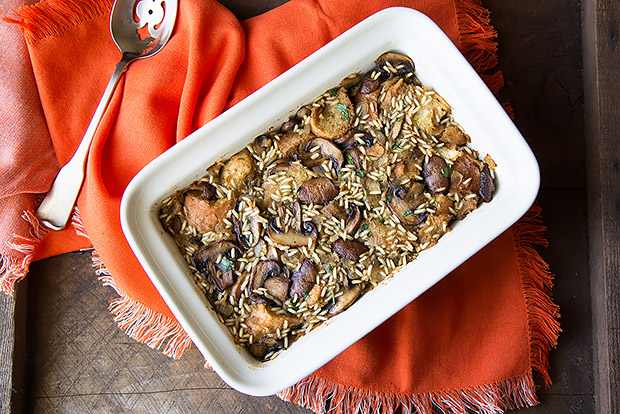 Stuffing is a traditional holiday dish that is often loaded with refined carbohydrates and unhealthy fat. This version has the familiar flavors but replaces some of the bread with lower-calorie, protein-rich mushrooms and brown rice for extra fiber.
Nutrition Facts
Serving Size 1/6 recipe
Amount Per Serving
% Daily Value*
Trans Fat 0g
9%
Total Carbohydrate
26.3g
Sugars 4.7g
Vitamin C 10%
Vitamin A 4%
*
The % Daily Value (DV) tells you how much a nutrient in a serving of food contributes to a daily diet. 2,000 calories a day is used for general nutrition advice.
Yield: 6 servings
Preparation time: 15 minutes
Baking time: 20 minutes
Ingredients
1 tbsp olive oil
¾ cup chopped onion
2 cloves garlic, minced
3 cups sliced white button mushrooms
3 ½ cups whole grain bread cubes
1 cup unsalted chicken or vegetable stock
1 cup cooked brown rice
¼ cup chopped fresh parsley
½ tsp poultry seasoning
½ tsp fine ground sea salt
¼ tsp ground black pepper
Directions
In a large, deep skillet, heat the oil over medium-high. Add the onion and garlic and cook for 3 minutes, stir in the mushrooms and cook for 5 to 7 more minutes, until all vegetables are browned and softened.
Reduce the heat to low and add the bread cubes. Pour in the stock and stir to saturate the bread, breaking it up into small pieces. Remove from the heat.
Preheat the oven to 375 degrees F. Spray a baking dish, about 10 x 7 inches, with non-stick cooking spray.
Stir the cooked rice, parsley, poultry seasoning, salt, and pepper into the skillet.
Transfer the stuffing to the prepared baking dish and press firmly to smooth the surface. Bake for 20 minutes, until the top is browned and the edges are crisp. Serve warm.