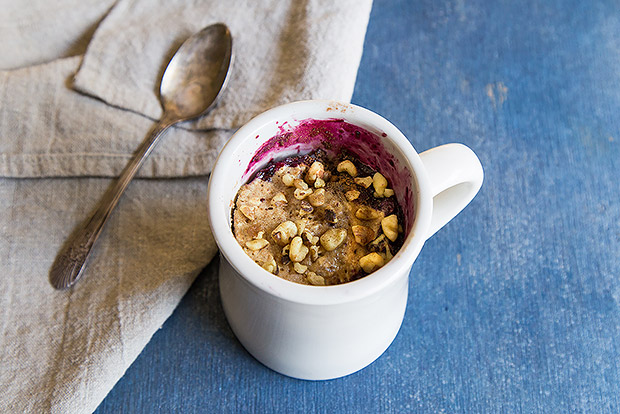 The best way to control portion sizes for desserts is to make individual servings. With this recipe, you can create a quick and simple cherry cobbler dessert in a mug.
Nutrition Facts
Serving Size 1 serving
Amount Per Serving
% Daily Value*
Trans Fat 0g
18%
Total Carbohydrate
54.2g
Sugars 30.3g
*
The % Daily Value (DV) tells you how much a nutrient in a serving of food contributes to a daily diet. 2,000 calories a day is used for general nutrition advice.
Yield: 1 serving
Preparation time: 10 minutes
Cooking time: 3 minutes
Ingredients
1 cup frozen, pitted sweet cherries (no sugar added)
2 tbsp old-fashioned rolled oats
2 tbsp whole wheat flour
1 tbsp raw sugar
¼ tsp baking powder
Pinch of salt
Pinch of cinnamon
¼ tsp pure vanilla extract
3 tbsp milk (any variety)
1 tsp chopped walnuts or pecans (optional)
Directions
Place the frozen cherries in a 12-ounce microwave-safe mug.
In a small bowl, stir together the oats, flour, sugar, baking powder, salt and cinnamon. Stir in the vanilla. Add the milk and continue to stir until a thick batter forms.
Pour the batter over the cherries and spread it to cover them.
Microwave the mug on high for 1 ½ to 2 minutes. Check every 30 seconds because microwave cooking times can vary. The cake will become firm when cooked through and the cherries will bubble to the top. Watch closely the last 15 seconds as the cherries may begin to splatter.
Remove from the microwave. Top with the nuts, if desired. Serve warm. Stir the cake portion of the cobbler into the cherries as you eat.