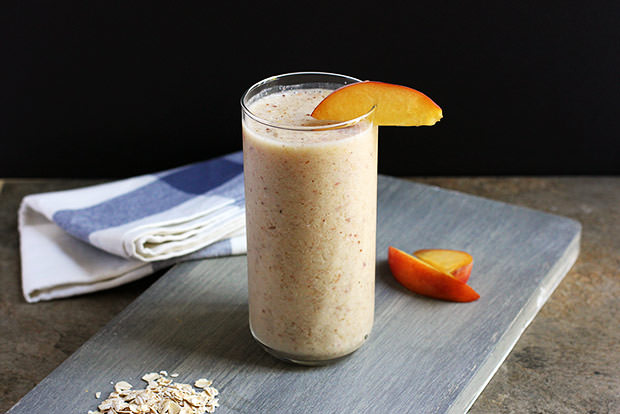 This smoothie combines seasonal fruit with almond milk and almond meal for a snack that is balanced in carbohydrates, healthy fat, fiber, and protein. The honey and spices give it a flavor reminiscent of peach pie.
Nutrition Facts
Serving Size 1 smoothie
Amount Per Serving
% Daily Value*
Trans Fat 0g
9%
Total Carbohydrate
26.7g
Sugars 19.3g
*
The % Daily Value (DV) tells you how much a nutrient in a serving of food contributes to a daily diet. 2,000 calories a day is used for general nutrition advice.
Yield: 1 serving
Preparation time: 5 minutes
Ingredients
1 large fresh peach, pitted, or 1 cup frozen peaches
1 cup unsweetened vanilla almond milk
1 tbsp old-fashioned rolled oats
1 tbsp almond meal
1 tsp honey
1/8 tsp ground cinnamon
Pinch of ground nutmeg
Ice (optional)
Directions
Add all ingredients to a blender. Puree until smooth. Add ½ cup to 1 cup of ice if a thicker smoothie is desired. Pulse until ice is blended with other ingredients. Serve cold.