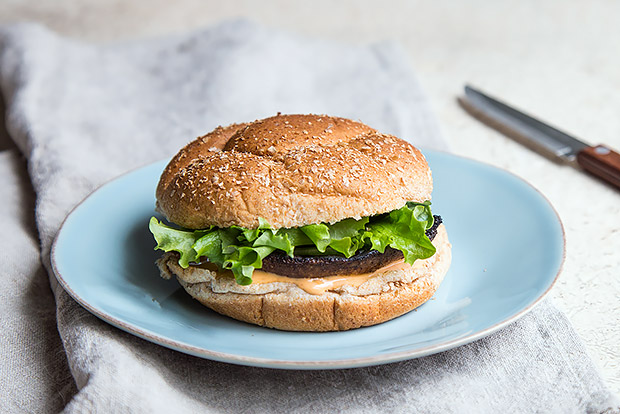 Portobello mushrooms make delicious plant-based substitutes for meat in burgers. In this recipe, the mushrooms are rubbed with heart-healthy olive oil and fresh cilantro before cooking. The tangy sauce is made with fresh lime juice and light mayonnaise. You can reduce the calories further by serving the sandwich open-faced or without a bun.
Nutrition Facts
Serving Size 1 serving
Amount Per Serving
% Daily Value*
Trans Fat 0g
8%
Total Carbohydrate
23.9g
Sugars 4.6g
Vitamin C 5%
Vitamin A 14%
*
The % Daily Value (DV) tells you how much a nutrient in a serving of food contributes to a daily diet. 2,000 calories a day is used for general nutrition advice.
Yield: 2 servings
Preparation time: 15 minutes
Cooking time: 15 minutes
Ingredients
2 portobello mushrooms
1 tbsp olive oil
1 tbsp chopped fresh cilantro
¼ tsp garlic powder
¼ tsp fine ground sea salt
1/8 tsp ground black pepper
¼ cup no salt added vegetable or chicken broth
1 ½ tbsp light mayonnaise
1 tsp sriracha-style hot sauce
½ tsp fresh lime juice
¼ tsp lime zest
2 100% whole wheat burger buns
1 cup mixed leaf lettuce
Directions
Clean the mushrooms with a damp dishtowel. Remove the stems and scrape out the gills. In a small bowl, stir together the olive oil, cilantro, garlic powder, sea salt, and black pepper. Preheat a deep non-stick skillet with a lid over medium-high heat.
Rub half of the olive oil and herb mix over each of the mushrooms. Place in the skillet top-side down and cook for 4 minutes. Flip the mushrooms and cook 3 more minutes. Reduce the heat to medium.
Pour the broth into the skillet and cover immediately. Cook for 6 to 8 more minutes, flipping the mushrooms once halfway through. Turn off the heat. The mushrooms will be dark, slightly shrunken, and tender when pierced with a fork.
In a small bowl, stir together the mayonnaise, hot sauce, lime juice, and lime zest.
To assemble the burgers, spread half of the sauce over each bottom bun. Top with a mushroom and ½ cup of lettuce. Cover with the top half of the bun and serve.