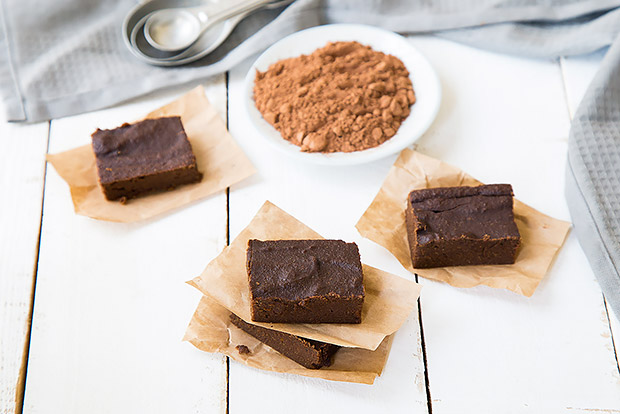 Pumpkin puree and rich cocoa powder reduce the need for excess saturated fat and sugar in these bars. Dense and fudgy, they make a decadent treat without the extra calories.
Nutrition Facts
Serving Size 1 bar
Amount Per Serving
% Daily Value*
Trans Fat 0g
4%
Total Carbohydrate
10.7g
Total Sugars 5.4g
9%
Includes 4.5g Added Sugars
*
The % Daily Value (DV) tells you how much a nutrient in a serving of food contributes to a daily diet. 2,000 calories a day is used for general nutrition advice.
9.2 Net Carbs Per Serving
Yield: 12 bars
Preparation time: 10 minutes
Baking time: 30 minutes
Ingredients
½ cup pumpkin puree
¼ cup brown sugar
1 large egg
½ tsp vanilla extract
½ tsp ground cinnamon
¼ tsp baking powder
¼ tsp fine ground sea salt
¼ cup unsweetened cocoa powder
½ cup whole wheat flour
½ cup low-fat milk
Directions
Preheat the oven to 350 degrees Fahrenheit. Spray a small baking dish or loaf pan (about 9 x 6 inches) with non-stick cooking spray.
In a medium bowl, stir together the pumpkin and brown sugar. Stir in the egg until fully incorporated. Add in the vanilla, cinnamon, baking powder, and sea salt.
Pour in the cocoa powder and stir well, until no clumps remain. Stir in the flour and then fold in the milk.
Transfer the batter to the prepared pan. Bake for 25 to 30 minutes, until the bars are firm. They will have a tender, fudgy center that resembles a firm pumpkin pie.
Let cool for 15 minutes before cutting to serve.