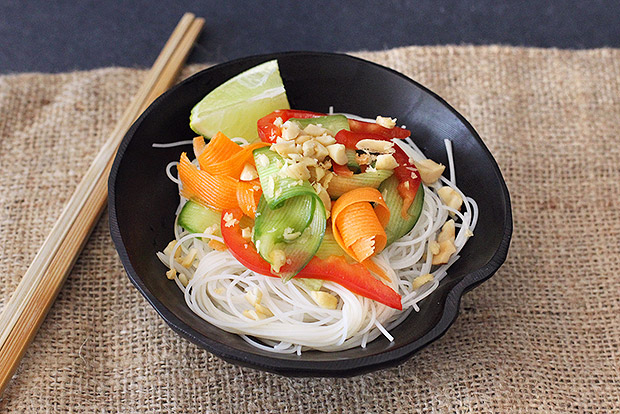 This light and refreshing salad is a great way to enjoy nutritious vegetables. Served cold with rice noodles, it makes a filling lunch that is easy to pack for work or school.
Nutrition Facts
Serving Size 1/4 recipe
Amount Per Serving
% Daily Value*
Trans Fat 0g
17%
Total Carbohydrate
50g
Sugars 7.2g
*
The % Daily Value (DV) tells you how much a nutrient in a serving of food contributes to a daily diet. 2,000 calories a day is used for general nutrition advice.
Yield: 4 servings
Preparation time: 40 minutes
Ingredients
2 small Persian cucumbers (or 1 English cucumber)
1 medium carrot, peeled
1 small red bell pepper, thinly sliced
2 tbsp rice vinegar
1 tbsp brown sugar
½ tsp dark sesame oil
¼ tsp low sodium soy sauce
Juice of 1 a lime
1 (6 ounce) package thin rice noodles
6 cups hot water
¼ cup chopped unsalted peanuts
Directions
Use a vegetable peeler to cut the cucumbers and carrot into ribbon-like pieces. Combine the cucumber, carrot, and bell pepper in a medium-sized bowl.
In a small dish, stir together the rice wine vinegar, brown sugar, sesame oil, soy sauce, and lime juice. Pour the dressing over the vegetables and toss to coat. Cover and refrigerate for 15 minutes.
While the vegetables rest, place the rice noodles in a bowl. Pour the hot water over the noodles. Move the noodles around so that they are all completely submerged. Add more hot water if necessary. Let sit for 15 minutes, until the noodles are softened. Drain and cool.
Divide the noodles into 4 equal servings, and top each with an equal amount of vegetables. Garnish each bowl with 1 tablespoon of chopped peanuts before serving.