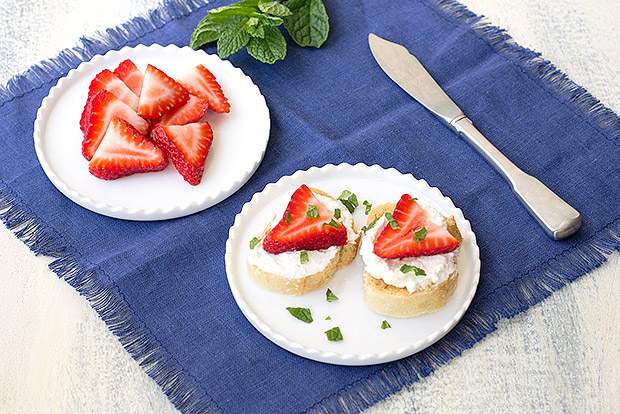 These easy toasts make a quick breakfast or snack. Part skim ricotta cheese provides protein and fresh strawberries supply vitamin C.
Nutrition Facts
Serving Size 2 toasts
Amount Per Serving
% Daily Value*
Trans Fat 0g
7%
Total Carbohydrate
20.3g
Sugars 6.9g
*
The % Daily Value (DV) tells you how much a nutrient in a serving of food contributes to a daily diet. 2,000 calories a day is used for general nutrition advice.
Yield: 4 servings
Preparation time: 10 minutes
Ingredients
8 slices whole wheat baguette
½ cup part skim ricotta cheese
1 tsp honey
8 to 10 strawberries, sliced
1 tbsp chopped fresh mint
Directions
Preheat the broiler and place the baguette slices on a baking sheet. Broil until toasted and browned, about 3 minutes.
In a small bowl, stir together the ricotta and honey. Spread about 1 tablespoon of the ricotta over each toast.
Place a few slices of strawberry over the ricotta on each toast. Sprinkle the toasts with chopped mint and serve.