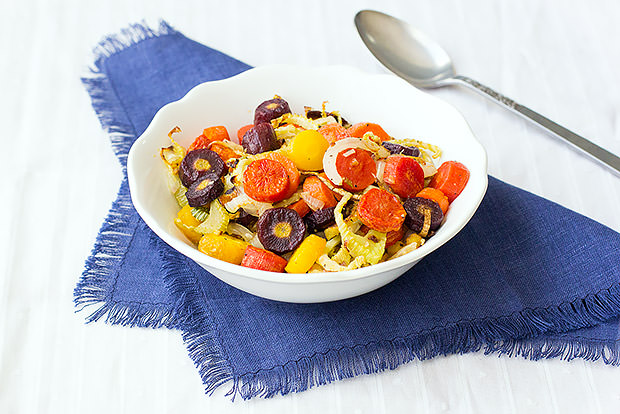 Carrots are rich in beta-carotene, an antioxidant that benefits eye health. In this recipe, a variety of colored carrots are roasted with fiber-rich fennel for a comforting side dish that is perfect for spring holidays.
Nutrition Facts
Serving Size 1/4 recipe
Amount Per Serving
% Daily Value*
Trans Fat 0g
7%
Total Carbohydrate
19.9g
Sugars 7.3g
*
The % Daily Value (DV) tells you how much a nutrient in a serving of food contributes to a daily diet. 2,000 calories a day is used for general nutrition advice.
Yield: 4 to 6 servings
Preparation time: 10 minutes
Baking time: 30 minutes
Ingredients
8 medium carrots, any color, peeled and sliced
1 bulb fennel, sliced
1 medium onion, sliced
2 cloves garlic, minced
1 ½ tbsp olive oil
¼ tsp fine ground sea salt
1/8 tsp ground black pepper
Directions
Preheat the oven to 425 degrees Fahrenheit.
Place the carrots, fennel, onion, and garlic in a large bowl. Add the oil salt, and pepper and toss to coat all of the vegetables.
Spray a baking sheet with non-stick cooking spray. Arrange the vegetables in a single layer on the baking sheet.
Bake for 15 minutes. Remove from the oven and stir. Return to the oven and bake for an additional 10 to 15 minutes, until the vegetables are browned and the carrots are tender. Serve warm.