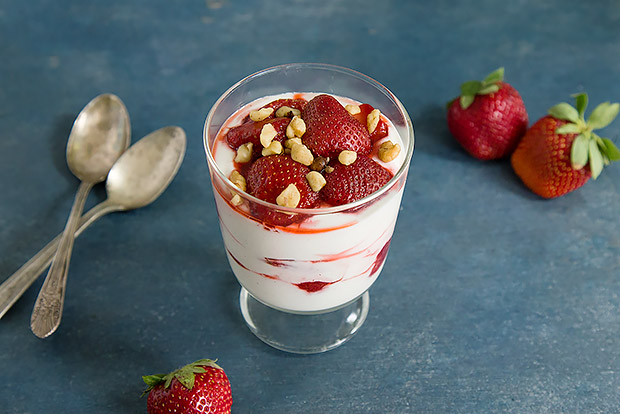 When strawberries are roasted, they turn into a sweet, syrupy treat that can be used as a topping for cereals and yogurt. This recipe layers the berries with cinnamon honey yogurt. By flavoring plain yogurt at home, you can control the added sugar. Enjoy this parfait as a filling breakfast or afternoon snack.
Nutrition Facts
Serving Size 1/2 recipe
Amount Per Serving
% Daily Value*
Trans Fat 0g
7%
Total Carbohydrate
21.7g
Sugars 16.2g
Vitamin C 149%
Vitamin A 0%
*
The % Daily Value (DV) tells you how much a nutrient in a serving of food contributes to a daily diet. 2,000 calories a day is used for general nutrition advice.
Yield: 2 servings
Preparation time: 15 minutes
Cooking time: 7 minutes
Ingredients
1 pint strawberries, stemmed and cut in half
2 (5.3 oz.) containers of non-fat plain Greek yogurt
1 tsp honey
¼ tsp pure vanilla extract
1/8 tsp ground cinnamon
2 tbsp chopped walnuts
Directions
Preheat the oven to 400 degrees F. Place the strawberries in a single layer on a rimmed baking sheet. Bake for 5 to 7 minutes, and stir at least once while roasting. The larger your berries, the longer they will need to bake. They are ready when they soften and a syrup is visible on the bottom of the baking sheet. Let cool.

In a medium bowl, stir together the yogurt, honey, vanilla, and cinnamon. Separate the yogurt and the strawberries into two portions.

In each of two serving bowls, layer a portion of the yogurt and strawberries with their natural syrup. Top each with a tablespoon of walnuts before serving.