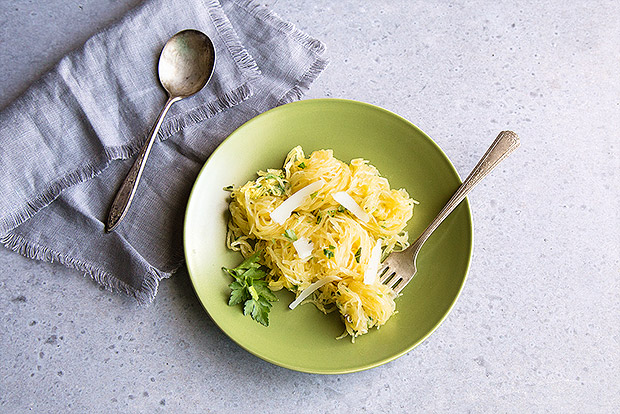 Spaghetti squash makes a lower-calorie substitute for pasta and rice. It's ideal for a main course or side dish and supplies dietary fiber and vitamins. This simple recipe seasons the squash with fresh herbs that add even more beneficial plant nutrients.
Nutrition Facts
Serving Size 1/4 recipe
Amount Per Serving
% Daily Value*
Trans Fat 0g
4%
Total Carbohydrate
11.1g
Sugars 4.8g
Vitamin C 15%
Vitamin A 9%
*
The % Daily Value (DV) tells you how much a nutrient in a serving of food contributes to a daily diet. 2,000 calories a day is used for general nutrition advice.
Yield: 4 servings
Preparation time: 15 minutes
Baking time: 45 minutes
Cooking time: 5 minutes
Ingredients
1 medium spaghetti squash, about 4 cups cooked
1 ½ tbsp extra virgin olive oil
2 tbsp chopped fresh basil
2 tbsp chopped fresh chives
1 tbsp chopped fresh parsley
¼ teaspoon garlic powder
1/8 teaspoon fine ground sea salt
2 tbsp Parmesan cheese shavings
Directions
Preheat the oven to 400 degrees Fahrenheit. Carefully cut the squash in half lengthwise and remove the seeds. Rub all sides of the squash with a ½ tablespoon of olive oil. Place the squash cut-side down on a baking sheet. Prick the skin in several places with a fork. Bake for 35 to 40 minutes, until tender.

Remove from the oven and carefully flip the squash halves over. Let sit until cool enough to handle.

Use a fork to scrape the spaghetti squash out of the skin. Discard the skin. Heat 1 tablespoon of olive oil in a large skillet over medium-high. Add the squash. Saute for 2 minutes. Add the herbs, garlic powder and salt, and cook for 1 more minute.

Serve warm sprinkled with the Parmesan cheese.