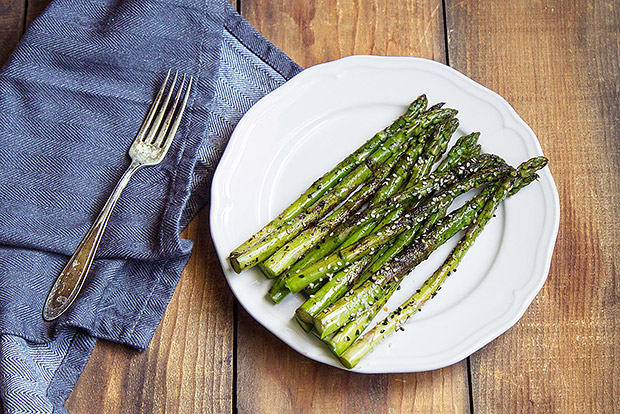 Asparagus is loaded with vitamin K and folate. It cooks quickly making it an easy, nutritious side dish any night of the week. In this recipe, sesame oil and soy sauce give the vegetable a flavorful twist.
Nutrition Facts
Serving Size 1/4 recipe
Amount Per Serving
% Daily Value*
Trans Fat 0g
2%
Total Carbohydrate
6.1g
Sugars 3.6g
Vitamin C 10%
Vitamin A 15%
*
The % Daily Value (DV) tells you how much a nutrient in a serving of food contributes to a daily diet. 2,000 calories a day is used for general nutrition advice.
Yield: 4 servings
Preparation time: 10 minutes
Cooking time: 5 minutes
Ingredients
2 tsp dark sesame oil
1 tsp honey
½ tsp low-sodium soy sauce
¼ tsp unseasoned rice vinegar
¼ tsp garlic powder
½ tbsp extra virgin olive oil
1 lb. asparagus, ends trimmed
1 tsp black sesame seeds
1 tsp white sesame seeds
Directions
In a small dish, whisk together the sesame oil, honey, soy sauce, rice vinegar and garlic powder. Set aside.
In a large, deep skillet, heat the olive oil over medium-high heat. Add the asparagus. Move the stalks around the pan as it cooks. Cook 3 to 5 minutes, until bright green and slightly tender.
Remove the skillet from the heat, and pour in the sesame oil dressing. Toss to coat the asparagus. The sauce will blacken in places on the stalks.
Place the asparagus on a serving platter, and sprinkle with the black and white sesame seeds before serving.