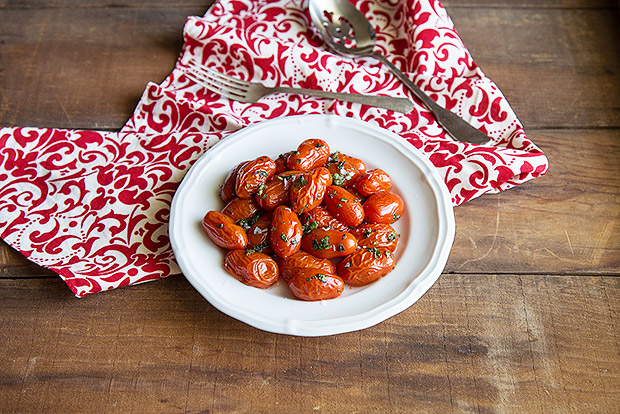 Tomatoes are full of antioxidants that protect against heart disease and some cancers. This recipe turns bite-size cherry or grape tomatoes into a delicious side dish. The tomatoes are tossed in olive oil and herbs and then roasted until they are tender and juicy. Serve them as a side or use them to top whole wheat pasta.
Nutrition Facts
Serving Size 1/4 recipe
Amount Per Serving
% Daily Value*
Trans Fat 0g
2%
Total Carbohydrate
5.6g
Sugars 3.5g
Vitamin C 47%
Vitamin A 14%
*
The % Daily Value (DV) tells you how much a nutrient in a serving of food contributes to a daily diet. 2,000 calories a day is used for general nutrition advice.
Yield: 4 servings
Preparation time: 5 minutes
Baking time: 10 minutes
Ingredients
1 pint cherry or grape tomatoes
1 tbsp extra virgin olive oil
1 tbsp chopped fresh chives
1 tbsp chopped fresh basil
1/8 tsp fine-ground sea salt
Directions
Preheat the oven to 425 degrees Fahrenheit. Place the tomatoes in a single layer on a baking sheet.

Drizzle the tomatoes with the oil, and sprinkle them with the herbs and salt. Stir the tomatoes gently around the pan.

Roast for 5 minutes. Remove from the oven and stir. Roast for an additional 3 to 5 minutes until the tomatoes are warm and the skins begin to burst.