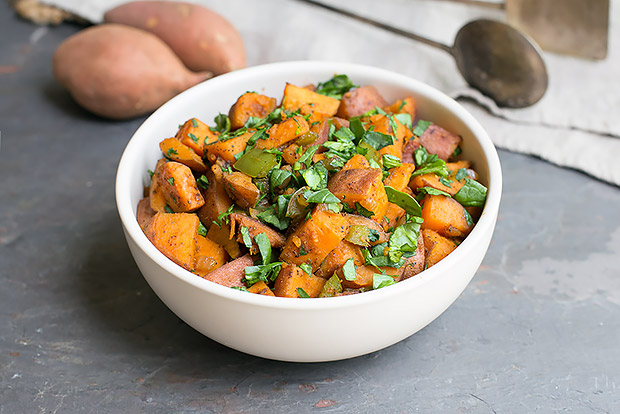 Sweet potatoes are full of vitamin A and dietary fiber. In this recipe, they are cooked with green peppers and onions and seasoned with smoked sweet paprika. This is a great side dish for any meal.
Nutrition Facts
Serving Size 1 serving
Amount Per Serving
% Daily Value*
Trans Fat 0g
6%
Total Carbohydrate
17.4g
Sugars 4g
Vitamin C 21%
Vitamin A 222%
*
The % Daily Value (DV) tells you how much a nutrient in a serving of food contributes to a daily diet. 2,000 calories a day is used for general nutrition advice.
Yield: 6 servings
Preparation time: 15 minutes
Cooking time: 30 minutes
Ingredients
1 tbsp olive oil
½ cup chopped onion
¾ cup chopped green bell pepper
1 lb. sweet potatoes, chopped small (about 4 cups)
½ cup water
¼ tsp smoked sweet paprika
¼ tsp fine ground sea salt
¼ tsp ground black pepper
½ cup finely chopped spinach
Directions
Heat the olive oil in a large skillet over medium-high heat. Add the onion and cook for 1 minute. Add the bell pepper and cook for 1 more minute.
Stir in the sweet potatoes and cook for 8 to 10 minutes until some edges are browned and the pieces start to become tender. Turn the heat down to medium. Add the water, stir and cook for 7 to 10 minutes until the water has evaporated and the potatoes are tender.
Sprinkle in the paprika, salt, and pepper. Remove from the heat and stir the spinach just before serving.