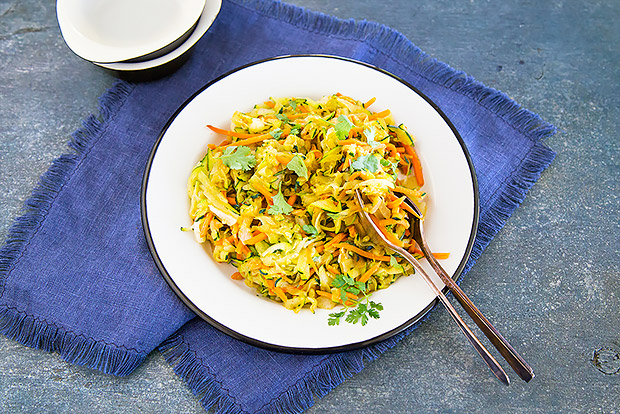 Carrots and summer squash are rich in plant chemicals that support healthy vision. Serve this alongside grilled fish for dinner, or top it with a poached egg and enjoy some vegetables for breakfast.
Nutrition Facts
Serving Size 1/4 recipe
Amount Per Serving
% Daily Value*
Trans Fat 0g
2%
Total Carbohydrate
6.6g
Sugars 3.5g
Vitamin C 34%
Vitamin A 39%
*
The % Daily Value (DV) tells you how much a nutrient in a serving of food contributes to a daily diet. 2,000 calories a day is used for general nutrition advice.
Yield: 4 servings
Preparation time: 15 minutes
Cooking time: 10 minutes
Ingredients
3 ½ cups shredded zucchini
1 tbsp extra virgin olive oil
¼ cup diced yellow onion
½ cup shredded carrots
¼ tsp ground coriander
¼ tsp ground cumin
¼ tsp salt
¼ tsp smoked paprika
Cilantro for garnish
Directions
Shred the zucchini using a food processor. Work in batches and squeeze the shredded zucchini over the sink to eliminate excess water. Set the zucchini aside.

Heat the olive oil in a large skillet over medium-high. Add the onion and cook for 3 minutes until they begin to soften. Add the carrots and cook 1 more minute. Add the zucchini and cook 5 minutes until the vegetables are cooked through and begin to brown.

Add the coriander, cumin, salt and smoked paprika. Stir well. Sprinkle with chopped cilantro, and serve warm.