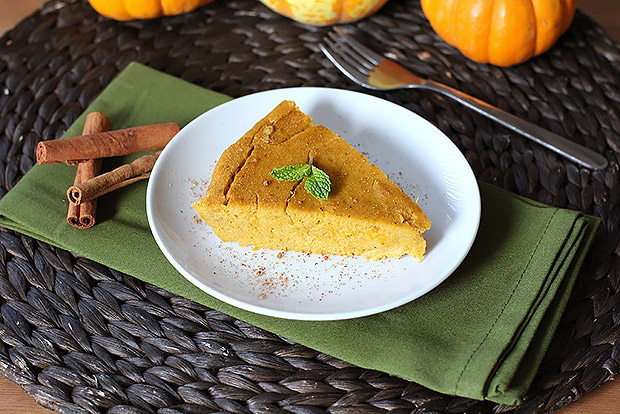 You can enjoy the flavors of the season without overloading on unhealthy foods. This crustless pumpkin pie is sweetened with banana to reduce the added sugar. A small amount of whole wheat flour in the pumpkin filling creates a dessert that can be sliced and served like any pie, but without the crust you save calories and saturated fat.
Nutrition Facts
Serving Size 1 slice
Amount Per Serving
% Daily Value*
Trans Fat 0g
6%
Total Carbohydrate
17.5g
Sugars 11g
*
The % Daily Value (DV) tells you how much a nutrient in a serving of food contributes to a daily diet. 2,000 calories a day is used for general nutrition advice.
Yield: 8 servings
Preparation: 5 minutes
Baking time: 30 minutes
Ingredients
1 can (15 oz.) pumpkin puree
½ ripe banana, pureed
3 tbsp raw sugar
1 large egg, beaten
1 large egg white
1 cup low-fat evaporated milk
¼ cup white whole wheat flour
½ tsp pure vanilla extract
1 tsp pumpkin pie spice
½ tsp baking powder
¼ tsp salt
Directions
Preheat the oven to 375 degrees Fahrenheit. Spray a 9 inch pie pan with non-stick cooking spray.
In a medium bowl, stir together the pumpkin, banana, and sugar. Stir in the egg and egg white. Stir well until all ingredients are combined.
Stir in the milk and flour. Add the vanilla pumpkin pie spice, baking powder, and salt. Stir until all ingredients are mixed well.
Pour the pumpkin into the prepared pie pan. Bake for 25 to 30 minutes until the pumpkin is set in the center and no longer jiggles when you move the pan.
Let cool completely (about 1 hour). Use a sharp knife to gently go around the edge of the pie, between the pie and the pie pan to release it. Cut into 8 slices and serve.