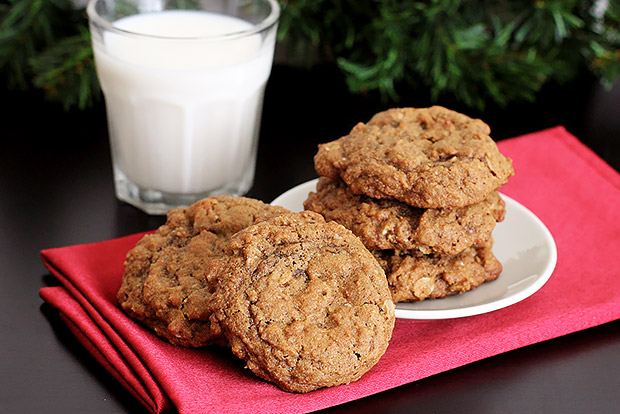 Many homemade cookies can be slightly modified to make them a healthier treat. This recipe uses olive oil in place of some of the butter to reduce the saturated fat. The flour and oats add whole grains, and the molasses and spices give them a rich, delicious flavor that is ideal for the holiday season.
Nutrition Facts
Serving Size 1 cookie
Amount Per Serving
% Daily Value*
Trans Fat 0g
Sugars 5g
*
The % Daily Value (DV) tells you how much a nutrient in a serving of food contributes to a daily diet. 2,000 calories a day is used for general nutrition advice.
Yield: 20 cookies
Preparation time: 10 minutes
Baking time: 16 minutes
Ingredients
4 tbsp unsalted butter, softened
2 tbsp olive oil
½ cup raw sugar
¼ cup molasses
1 large egg
½ tsp pure vanilla extract
1 ½ tsp baking soda
1 ¼ cups white whole wheat flour
½ cup old fashioned rolled oats
½ tsp ground cinnamon
½ tsp ground ginger
¼ tsp ground nutmeg
¼ tsp salt
1/8 tsp ground cloves
Directions
Preheat the oven to 350 degrees Fahrenheit.
Add the butter and sugar to the bowl of a mixer fitted with the paddle attachment. Turn the mixer to medium and then to medium-high. Cream for 30 seconds. Add the olive oil and molasses and mix for 1 more minute. Scrape the sides of the bowl as needed.
With the mixer on low, mix in the egg, vanilla, and baking soda until all ingredients are combined.
In a medium bowl, whisk together the flour, oats, cinnamon, ginger, nutmeg, salt, and cloves.
With the mixer on low, gradually add the dry ingredients. Turn to medium speed and mix until all ingredients are incorporated, scraping the sides of the bowl as needed.
Measure out about a heaping kitchen teaspoon for each cookie and place on an ungreased baking sheet (12 cookies per standard baking sheet).
Bake for 7 to 8 minutes, until the edges are browned and the center of the cookies are firm. Let the cookies cool for 1 to 2 minutes and transfer to a cooling rack to cool completely.