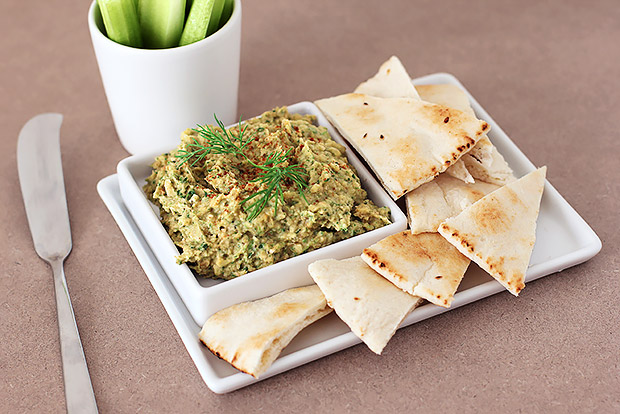 Snack smart at your next party with this bean dip. It's low in saturated fat and perfect for dipping fresh vegetables or for spreading over pita bread. It can also be used as a vegetarian sandwich spread or as the filling for a healthy quesadilla.
Nutrition Facts
Serving Size 2 tbsp
Amount Per Serving
% Daily Value*
Trans Fat 0g
2%
Total Carbohydrate
5.3g
Sugars 0.8g
*
The % Daily Value (DV) tells you how much a nutrient in a serving of food contributes to a daily diet. 2,000 calories a day is used for general nutrition advice.
Yield: About 2 cups, 16 servings
Preparation Time: 15 minutes
Cooking Time: 5 minutes
Ingredients
2 1/2 tbsp extra virgin olive oil, divided
1/2 small onion, sliced
2 cloves garlic, minced
1 1/2 cups fresh spinach
1 cup canned white kidney beans (cannellini), rinsed and drained
1 cup canned garbanzo beans (chickpeas), rinsed and drained
1/2 tsp smoked paprika
1/2 tsp ground cumin
1/4 tsp salt
1/4 tsp ground black pepper
Directions
Heat 1/2 tablespoon of the olive oil in a small skillet over medium-high. Add the onion and garlic, and cook for 1 minute. Add the spinach, reduce the heat to medium, and cook about 4 minutes more, until the spinach is wilted and the onions have softened. Remove the skillet from the heat and set it aside.
To the bowl of a food processor, add the white kidney beans and the garbanzo beans. Add the remaining 2 tablespoons of olive oil and the cooked onions and spinach. Pulse until a puree begins to form, about 5 to 6 pulses.
Add the smoked paprika, cumin, salt, and black pepper. Pulse until smooth, about 5 to 6 more pulses. Serve immediately, at room temperature.