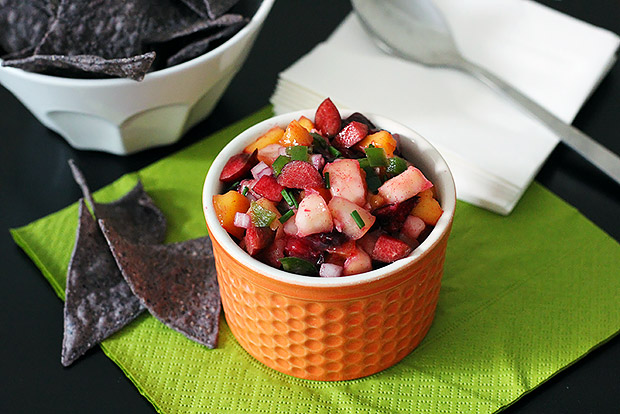 The sweet, salty, and spicy flavors of fresh fruit salsa make it the perfect healthy topping for tacos. It also serves as a low-calorie dip for a serving of tortilla chips, and a pretty garnish for grilled fish. Stone fruits like the cherries, nectarines, and plums used in this recipe are ideal for seasonal fruit salsas. Keep in mind that the fruits tend to break down quickly, so make this salsa only an hour or two before you plan to serve it.
Nutrition Facts
Serving Size 1/4 cup
Amount Per Serving
% Daily Value*
Trans Fat 0g
2%
Total Carbohydrate
7.4g
Sugars 5.6g
*
The % Daily Value (DV) tells you how much a nutrient in a serving of food contributes to a daily diet. 2,000 calories a day is used for general nutrition advice.
Yield: 1 ½ cups
Preparation time: 15 minutes
Refrigeration time: 15 minutes
Ingredients
10 sweet cherries, pitted and diced
2 white or yellow nectarines, pitted and chopped
1 purple plum, pitted and chopped
1 jalapeno, ribs and seeds removed, diced
1 clove of garlic, minced
2 tbsp red onion, diced
1 tbsp fresh chives, chopped
Juice from half of a lemon
¼ tsp salt
Directions
In a medium-sized bowl, toss together the cherries, nectarines, plum, jalapeno, garlic, and red onion. Stir in the chives.
Pour the lemon juice over the salsa and add the salt. Stir to combine all ingredients. Refrigerate for 15 minutes to let the flavors blend before serving.