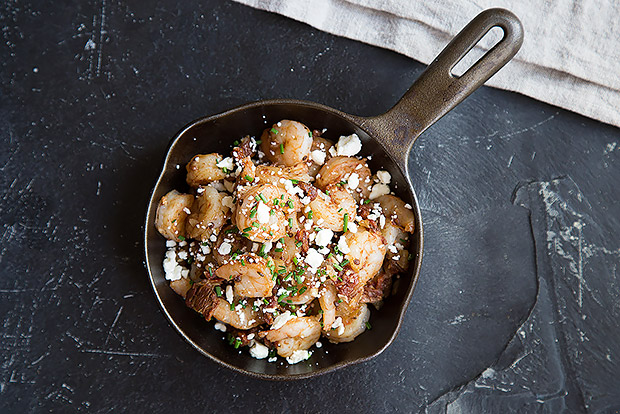 This tangy shrimp is cooked in the oil of the sundried tomatoes to control fat. A sprinkle of feta cheese eliminates the need for extra table salt. When paired with a salad or brown rice, this recipe makes a quick and easy weeknight meal. It can also be served alone as an appetizer or snack.
Nutrition Facts
Serving Size 1 serving
Amount Per Serving
% Daily Value*
Trans Fat 0g
Sugars 0.6g
*
The % Daily Value (DV) tells you how much a nutrient in a serving of food contributes to a daily diet. 2,000 calories a day is used for general nutrition advice.
Yield: 4 servings
Preparation time: 10 minutes
Cook time: 10 minutes
Ingredients
¼ cup diced onion
2 cloves garlic, minced
1/3 cup diced sundried tomatoes, packed in oil
12 oz. medium raw shrimp, peeled
2 tbsp crumbled feta cheese
1 tbsp chopped chives
Directions
Heat a medium non-stick skillet over medium-high heat. Add the onion, garlic and sundried tomatoes. Cook for 3 minutes.
Add the shrimp. Cook for 3 to 4 minutes, until the shrimp turn opaque and are cooked through.
Place in a serving dish and sprinkle with the feta cheese and chives.