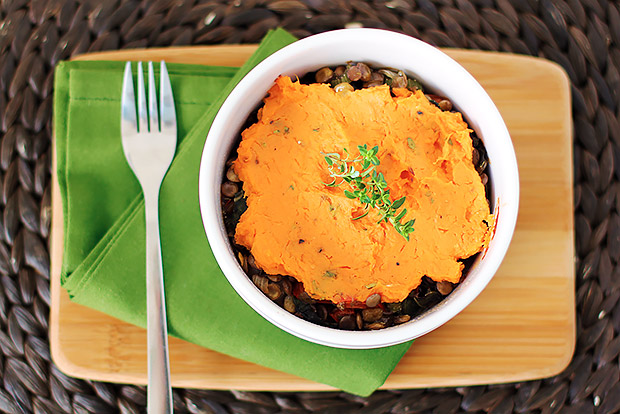 There are few meals more comforting than warm Shepherd's Pie. This vegetarian version uses hearty lentils, known for containing heart-healthy fiber, folate, and magnesium.They are also rich in protein and iron for energy. Adding a sweet potato topping not only gives a bright color to the final dish, it also supplies a healthy dose of vitamin A.
Nutrition Facts
Serving Size 1 pie
Amount Per Serving
% Daily Value*
Trans Fat 0g
16%
Total Carbohydrate
48.1g
Sugars 9.8g
*
The % Daily Value (DV) tells you how much a nutrient in a serving of food contributes to a daily diet. 2,000 calories a day is used for general nutrition advice.
Yield: 4 pies
Preparation: 15 minutes
Cooking time: 35 minutes
Ingredients
1 tbsp olive oil
2 cloves garlic, minced
2 stalks celery, sliced
1 small onion, chopped
1 small red bell pepper, cored and chopped
2-3 large kale leaves, chopped
¾ cup no salt added chicken or vegetable stock
½ tsp chopped fresh thyme
½ tsp chopped fresh rosemary
1 tsp cornstarch
1 tbsp water
2 ½ cups cooked green or brown lentils
½ tsp salt
¼ tsp ground black pepper

Sweet Potato Topping
2 medium sweet potatoes
1 clove garlic, grated
½ tsp chopped fresh thyme
¼ tsp salt
¼ tsp ground black pepper
Directions
Preheat the oven to 375 degrees Fahrenheit. Next, pierce the flesh of the sweet potatoes in several spots with a fork. Microwave on high for about 4 minutes or until the flesh is tender. Remove from the microwave. Cut a slit in each to release the steam and allow them to cool while you prepare the rest of the recipe.
Heat the olive oil over medium-high in a large, deep skillet. Add the garlic, celery, and onion and cook for 2 to 3 minutes, until the vegetables begin to soften. Add the red bell pepper and cook 1 minute more.
Add the kale and the stock. Stir in the thyme and rosemary.
In a small dish, stir together the cornstarch and water. Add it to the vegetables. Stir in the lentils and cook 1 to 2 more minutes. Stir in the salt and pepper and remove from the heat. Set aside.
Spoon the sweet potato flesh out of the skins and transfer to a medium-sized bowl. Add the garlic, thyme, salt, and pepper. Use a fork to stir the ingredients while gently mashing the potatoes until smooth.
Spray 4 medium-sized, oven-safe ramekins or souffle cups (about the 14 ounce size) with non-stick cooking spray or olive oil. Add about 1 cup of the lentils and vegetables to each. Top with about ¼ cup of the sweet potatoes. Gentle spread the potatoes over the lentils.
Place the dishes on a baking sheet. Place the baking sheet in the oven and bake for 20 to 25 minutes, or until the filling begins to bubble and the edges of the potatoes begin to brown. Remove from the oven and let sit for 3 to 4 minutes. Serve warm.