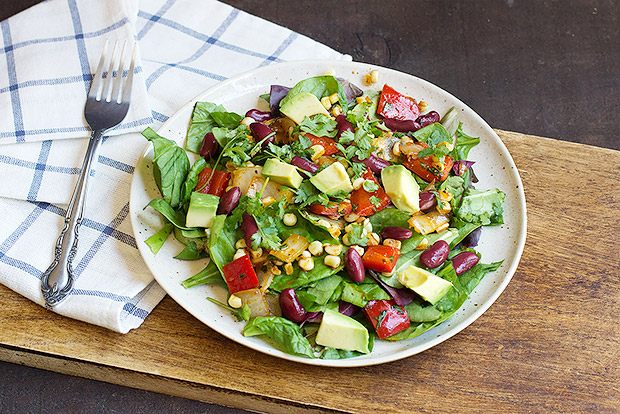 This salad uses seasonal ingredients for fresh flavor and beans for protein. Lightly sautéed vegetables and chopped avocado eliminate the need for salad dressing, which decreases total calories and fat. Enjoy it as a side dish at dinner, or take it to work for a healthy lunch.
Nutrition Facts
Serving Size 1/4 recipe
Amount Per Serving
% Daily Value*
Trans Fat 0g
9%
Total Carbohydrate
26.6g
Sugars 3.5g
*
The % Daily Value (DV) tells you how much a nutrient in a serving of food contributes to a daily diet. 2,000 calories a day is used for general nutrition advice.
Yield: 4 servings
Preparation time: 20 minutes
Cooking time: 10 minutes
Ingredients
1 tbsp olive oil, divided
1 ½ cup chopped red bell pepper
½ cup onion, chopped
1 clove garlic, minced
Kernels from 1 ear of fresh corn (about 2/3 cup)
½ tsp chili powder
¼ tsp fine ground sea salt
¼ tsp ground black pepper
1 tsp fresh lime juice
2 tbsp chopped fresh cilantro
8 to 10 cups spring mix lettuce, roughly chopped
1 cup no-salt-added kidney or black beans, rinsed and drained
1 avocado, chopped
Directions
Heat ½ tablespoon of the olive oil over medium-high in a large skillet. Add the bell pepper, onion, and garlic. Cook for about 5 minutes, until the vegetables start to become tender. Add the corn and cook 2 more minutes.
Stir in the chili powder, salt, and black pepper. Sprinkle the vegetables with the lime juice. Remove from the heat and stir in the cilantro and the remaining ½ tablespoon of olive oil. Let cool for 10 minutes.
Divide the greens evenly on 4 serving plates. Top with ¼ cup of the beans. Divide the cooked vegetables into 4 portions and place an equal amount over each salad. Add ¼ of the chopped avocado to each salad and serve.