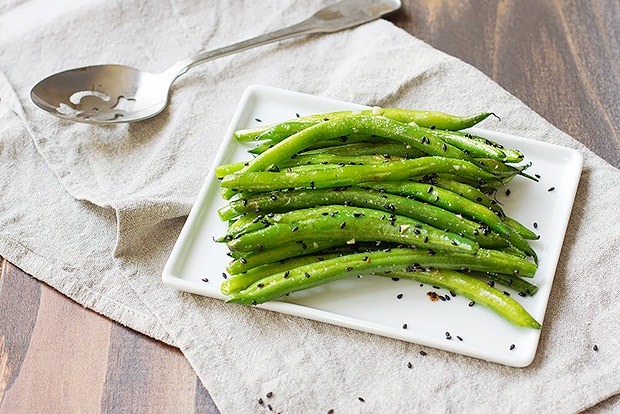 Green beans provide fiber, B vitamins, and antioxidants. They make a quick and easy side dish to pair with any of your favorite entrees. This recipe gives fresh green beans a roasted, nutty flavor and cooks quickly so that the beans stay crispy and flavorful.
Nutrition Facts
Serving Size 1/6 recipe
Amount Per Serving
% Daily Value*
Trans Fat 0g
1%
Total Carbohydrate
4.4g
Sugars 0.8g
*
The % Daily Value (DV) tells you how much a nutrient in a serving of food contributes to a daily diet. 2,000 calories a day is used for general nutrition advice.
Yield: 6 servings
Preparation time: 10 minutes
Cooking time: 10 minutes
Ingredients
½ tbsp olive oil
2 cloves garlic, minced
1 lb. fresh green beans, stems trimmed
½ tsp dark sesame oil
½ tbsp black or white toasted sesame seeds
¼ tsp fine ground sea salt
Directions
Heat the oil in a large skillet over medium-high. Add the garlic and cook for 1 minute.
Add the green beans to the pan, and stir often to coat the beans in the oil and garlic. Reduce the heat slightly, if necessary, to prevent the garlic from burning. Cook for about 5 minutes, until the green beans are slightly tender, but still crisp.
Remove from the heat and stir in the sesame oil, sesame seeds, and salt. Serve warm.