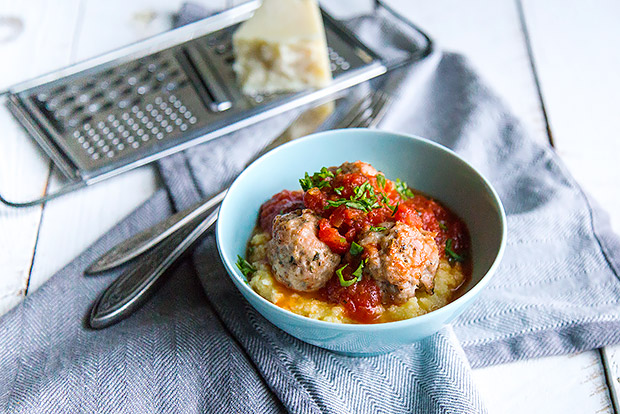 Your favorite comfort foods can be made healthier when you cook them at home. Ground turkey breast is used in this recipe for a leaner source of protein with less saturated fat than traditional meatballs. Homemade sauce and polenta allow you to cut the sodium content nearly in half when compared to other versions.
Nutrition Facts
Serving Size 1 serving
Amount Per Serving
% Daily Value*
Trans Fat 0g
9%
Total Carbohydrate
27.1g
Sugars 8.4g
Vitamin C 29%
Vitamin A 22%
*
The % Daily Value (DV) tells you how much a nutrient in a serving of food contributes to a daily diet. 2,000 calories a day is used for general nutrition advice.
Yield: 4 servings
Preparation time: 15 minutes
Cooking time: 30 minutes
Baking time: 20 minutes
Ingredients
Sauce
½ tablespoon olive oil
¼ cup diced onion
2 (14 oz.) cans no salt added, diced tomatoes
1 teaspoon dried basil
1 teaspoon dried oregano
½ teaspoon garlic powder
½ teaspoon salt
½ teaspoon sugar
¼ teaspoon ground black pepper
Meatballs
1 lb. ground turkey breast
1 teaspoon dried basil
1 teaspoon dried oregano
½ teaspoon garlic powder
½ teaspoon onion powder
¼ teaspoon salt
¼ teaspoon smoked paprika
¼ teaspoon ground black pepper
Polenta
2 cups water
½ cup yellow cornmeal
2 tablespoons shredded parmesan cheese
Shredded parmesan cheese and chopped fresh basil for garnish
Directions
To make the sauce, heat the olive oil in a large saucepan over medium-high. Add the onion and cook for 3 minutes. Stir in the tomatoes, basil, oregano, garlic powder, salt, sugar, and pepper. Let simmer for 5 minutes over medium heat.
Remove from the heat, and use an immersion blender to carefully puree the tomatoes into a chunky sauce. Return to low heat and simmer, stirring occasionally for 20 to 30 minutes while you make the rest of the recipe.
Preheat the oven to 375 degrees Fahrenheit. Spray a baking sheet with non-stick cooking spray. In a medium bowl, stir together the ground turkey with all the herbs and spices.
Form into 16 meatballs and place them on the baking sheet. Bake for 20 minutes, turning the meatballs once halfway through baking. The meatballs should be cooked through and no longer pink in the middle. While the meatballs bake, make the polenta.
For the polenta, bring the water to a boil in a medium saucepan over high heat. Reduce the heat to low. Whisk in the cornmeal until smooth. Simmer on low for about 15 minutes, stirring often, until thickened. Remove from the heat and stir in the parmesan cheese.
To serve, divide the polenta among 4 shallow serving bowls. Place 4 meatballs on top of or next to the polenta, and cover the meatballs with ¼ of the sauce (use less sauce, if desired). Garnish with cheese and basil.