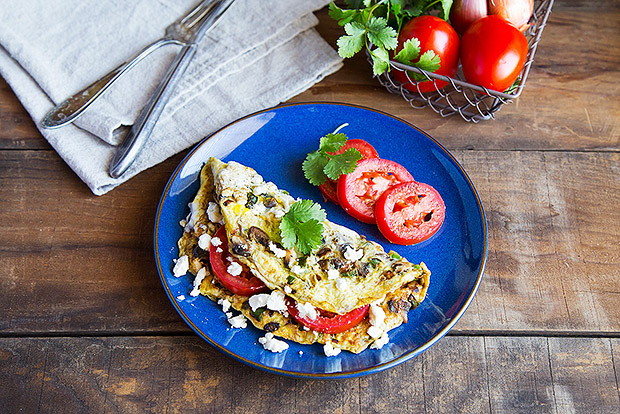 A protein-packed breakfast will keep you feeling full all morning. This omelet is loaded with fresh vegetables, and the use of egg whites reduces saturated fat. Feta cheese adds rich flavor and limits sodium by reducing the need for extra table salt.
Nutrition Facts
Serving Size 1 omelet
Amount Per Serving
% Daily Value*
Trans Fat 0g
3%
Total Carbohydrate
10.4g
Sugars 5.9g
Vitamin C 66%
Vitamin A 22%
*
The % Daily Value (DV) tells you how much a nutrient in a serving of food contributes to a daily diet. 2,000 calories a day is used for general nutrition advice.
Yield: 1 serving
Preparation time: 10 minutes
Cooking time: 5 minutes
Ingredients
2 large egg whites
1 whole large egg
½ tbsp olive oil
3 tbsp chopped mushrooms
2 tbsp chopped green bell pepper
1 tbsp minced shallot
2 tsp chopped fresh cilantro
Pinch of ground black pepper
2 tbsp crumbled feta cheese
2 slices tomato
Cilantro for garnish
Directions
Whisk the egg and egg whites in a small bowl. Set aside.
Heat the olive oil over medium-high in a small skillet. Add the mushrooms, bell pepper, and shallot. Cook for 3 minutes, until the mushrooms shrink and darken. Reduce the heat to medium.
Stir in the cilantro and black pepper. Pour the eggs into the skillet. Gently scrape the edges of the pan with a spatula and tilt the pan to move the uncooked egg to the edges. Cook for about 3 minutes, until the eggs are fully cooked. Flip the omelet if desired. Transfer to a plate.
Sprinkle the omelet with one tablespoon of feta cheese. Place two slices of tomato on one side of the omelet. Fold the omelet over to make a half moon. Sprinkle with the remaining feta cheese and garnish with cilantro.
To further reduce cholesterol and saturated fat, use four egg whites instead of a whole egg and two egg whites.