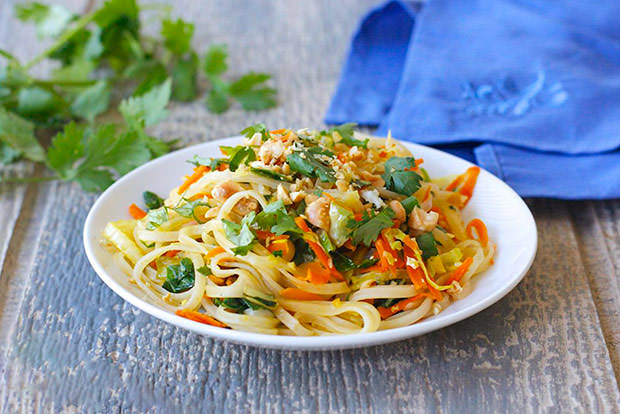 Pad Thai is a quick and easy dish you can make in 30 minutes or less. Compared with traditional recipes, this version doubles the nutritious vegetables and uses fewer noodles to reduce calories without sacrificing flavor.
Nutrition Facts
Serving Size 1/4 recipe
Amount Per Serving
% Daily Value*
Trans Fat 0g
11%
Total Carbohydrate
32.8g
Sugars 5.9g
*
The % Daily Value (DV) tells you how much a nutrient in a serving of food contributes to a daily diet. 2,000 calories a day is used for general nutrition advice.
Yield: 4 servings
Preparation time: 20 minutes
Cooking time: 10 minutes
Ingredients
4 oz. Pad Thai brown rice noodles
5 cups hot water
1 tbsp olive oil (or cooking oil of your choice)
3 green onions, sliced, greens and white portions separated
2 cloves garlic, minced
1 tbsp minced fresh ginger
2 medium carrots, peeled and shredded
2 ½ cups sliced bok choy
1 ½ cups thinly sliced green cabbage
Juice of ½ a lime
2 tsp fish sauce
1 tsp unseasoned rice vinegar
1 large egg
¼ cup chopped fresh cilantro
¼ cup chopped dry roasted, unsalted peanuts
Directions
Place the Pad Thai noodles in a medium bowl and pour in the hot water. Stir to submerge all of the noodles in the water. Let sit for 8 to 10 minutes, until the noodles are tender, and drain.
In a large skillet, heat the olive oil over medium-high. Add the white portion of the onions and the garlic. Cook for 1 minute. Add the ginger and the carrots and cook for two more minutes.
Stir in the bok choy and cook for 2 minutes. Add the cabbage, lime juice, fish sauce, and rice vinegar. Stir well to mix all ingredients and cook for one more minute.
Use your cooking spoon or spatula to push the vegetables to one side of the skillet. Crack the egg onto the surface of the pan on the empty side. Let the egg cook until it sets, about 1 minute. Gently flip and scramble the egg, chopping it into pieces as it cooks. Stir the egg into the other ingredients.
Mix in the Pad Thai noodles and cook for 1 to 2 more minutes, until heated. Remove the skillet heat and stir in the cilantro and the reserved green portion of the onions. Sprinkle the Pad Thai with the peanuts before serving.