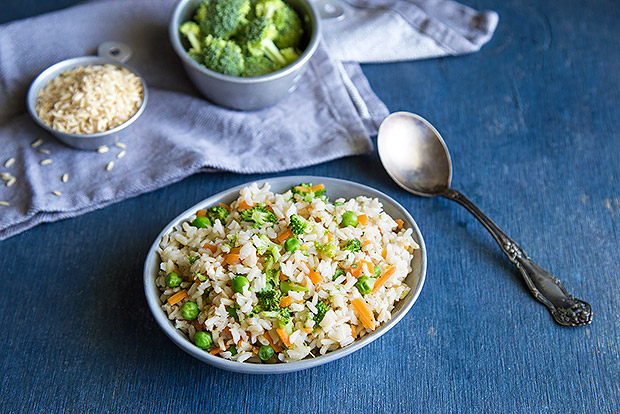 Adding extra vegetables to your favorite side dishes is a great way to increase nutrients and decrease calories. Make a traditional rice pilaf more nutritious by using whole grain rice, broccoli, peas and carrots.
Nutrition Facts
Serving Size 1/6 recipe
Amount Per Serving
% Daily Value*
Trans Fat 0g
8%
Total Carbohydrate
25.4g
Sugars 2.4g
Vitamin C 29%
Vitamin A 61%
*
The % Daily Value (DV) tells you how much a nutrient in a serving of food contributes to a daily diet. 2,000 calories a day is used for general nutrition advice.
Yield: 6 servings
Preparation time: 10 minutes
Cooking time: 50 minutes
Ingredients
2 ¾ cup water
1 cup dry long grain brown rice
1 cup shredded carrot
1 cup finely chopped fresh broccoli
½ cup fresh or frozen peas
1 tbsp chopped fresh chives
¼ tsp garlic powder
¼ tsp fine ground sea salt
¼ tsp ground black pepper
Directions
In a large saucepan, bring 1 ¾ cups of the water to a boil. Add the rice. Reduce the heat to medium, cover and simmer for 45 to 50 minutes, until the rice is tender and all water has been absorbed.

Bring the remaining 1 cup of water to a boil in a large saucepan over high-heat. Add the broccoli and carrots and cook for 2 minutes. Add the peas and cook for 1 more minute. Remove from the heat and strain the vegetables in a colander.

Add the vegetables to the rice. Sprinkle in the chives, garlic powder, sea salt and black pepper. Stir to combine all ingredients and serve.