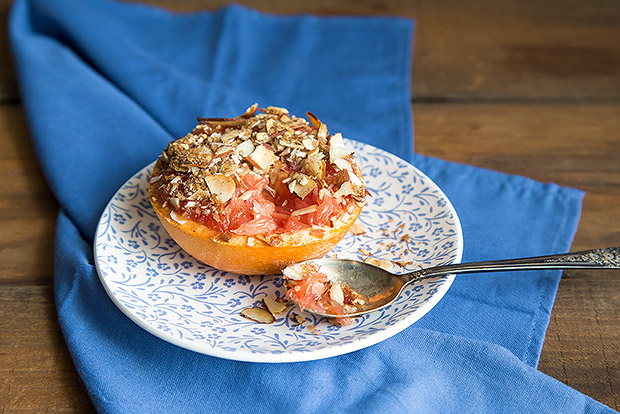 Grapefruit is full of vitamin C, and the red variety is also loaded with the antioxidant lycopene. This warm red grapefruit is dressed up with a sprinkle of delicious toppings.
Nutrition Facts
Serving Size 1 serving
Amount Per Serving
% Daily Value*
Trans Fat 0g
6%
Total Carbohydrate
18.6g
Sugars 12.7g
Vitamin C 64%
Vitamin A 28%
*
The % Daily Value (DV) tells you how much a nutrient in a serving of food contributes to a daily diet. 2,000 calories a day is used for general nutrition advice.
Yield: 2 servings
Preparation time: 5 minutes
Baking time: 7 minutes
Ingredients
1 red grapefruit, halved
2 tbsp sliced almonds
2 tsp raw sugar
¼ tsp cinnamon
Directions
Preheat the broiler on high. Place the grapefruit halves cut-side up on a baking sheet.
In a small dish, stir the almonds, sugar, and cinnamon. Spoon an equal amount of the topping over each grapefruit half.
Broil for 5 to 7 minutes until the topping begins to brown and the fruit is plump and warm.