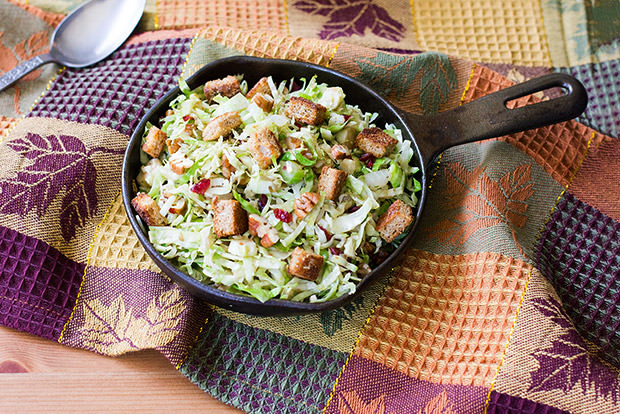 If you want holiday flavors without refined carbohydrates and excess sodium, try this shredded Brussels sprouts salad. It uses similar seasonings as your favorite holiday stuffing but is loaded with healthy vegetables.
Nutrition Facts
Serving Size 1/4 recipe
Amount Per Serving
% Daily Value*
Trans Fat 0g
8%
Total Carbohydrate
23.7g
Sugars 6.8g
*
The % Daily Value (DV) tells you how much a nutrient in a serving of food contributes to a daily diet. 2,000 calories a day is used for general nutrition advice.
Yield: 4 servings
Prep time: 30 minutes
Cook time: 15 minutes
Ingredients
Croutons
2 slices whole wheat bread, cubed (about 1 cup)
1 tbsp grated Parmesan cheese
1 ½ tsp olive oil
¼ tsp garlic powder
1/8 tsp ground black pepper
Salad
1 tbsp olive oil
2 cloves garlic, minced
1/3 cup diced onion
¼ cup diced celery
1 lb. Brussels sprouts, shredded or thinly sliced
¼ cup chopped raw pecans
¼ tsp poultry seasoning
¼ tsp fine ground sea salt
2 tbsp diced dried cranberries
Directions
To make the croutons, preheat the broiler to high and spray a baking sheet with non-stick cooking spray. Add bread cubes, cheese, 1 ½ teaspoons of olive oil, garlic powder, and black pepper to a medium bowl. Stir well to coat the bread with the oil and other ingredients.
Spread in a single layer on the baking sheet. Broil for about 1 minute, stir, and broil for about another minute, until browned and crisp. Set aside.
Heat the 1 tablespoon of olive oil in a large skillet over medium-high. Add the garlic and onions and cook for 2 minutes, until the vegetables begin to soften. Add the celery and cook for 1 more minute.
Add the shredded Brussels sprouts and cook for 3 to 5 more minutes until they reach your desired softness. Stir in the pecans, poultry seasoning, and sea salt, and cook for 30 more seconds.
Remove from the heat and stir in the cranberries. Top with croutons and serve warm.