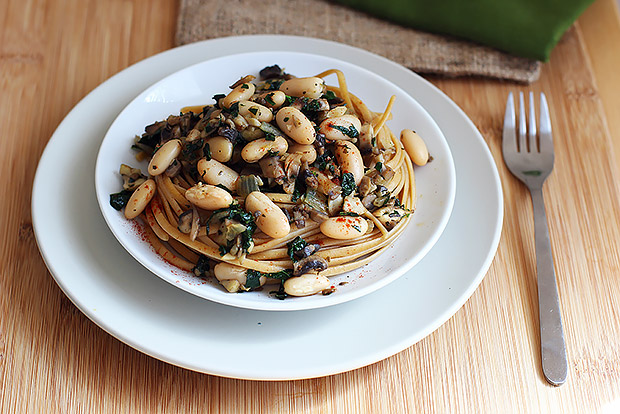 Pairing whole wheat pasta with white beans is a delicious, vegetarian option for boosting protein and fiber. This recipe also incorporates vitamin-rich dark leafy greens and immune boosting mushrooms for a quick and healthy meal.
Nutrition Facts
Serving Size 1/4 recipe
Amount Per Serving
% Daily Value*
Trans Fat 0g
22%
Total Carbohydrate
66.5g
Sugars 2.5g
*
The % Daily Value (DV) tells you how much a nutrient in a serving of food contributes to a daily diet. 2,000 calories a day is used for general nutrition advice.
Yield: 4 servings
Preparation time: 10 minutes
Cooking time: 15 minutes
Ingredients
1 tbsp olive oil
½ large onion, chopped
4 cloves garlic, minced
8 - 10 white button mushrooms, chopped
4 leaves of kale, stems removed, finely chopped
½ tsp dried basil
½ tsp dried oregano
½ tsp salt
¼ tsp smoked hot paprika
1 can (15 oz.) low sodium white kidney beans, rinsed and drained
8 oz. whole wheat linguine, cooked per package instructions
Preparation
Heat the olive oil in a large skillet over medium-high. Add the onion and garlic. Cook for 1 minute.
Add the mushrooms and the kale. Cook for 4 to 5 minutes. Until the vegetables soften and begin to brown.
Stir in the basil, oregano, salt, and paprika. Cook 1 minute more.
Stir in the beans and cook, just until heated through, about 30 more seconds.
To serve, place one cup of cooked pasta on each plate and top with ¼ of the beans.