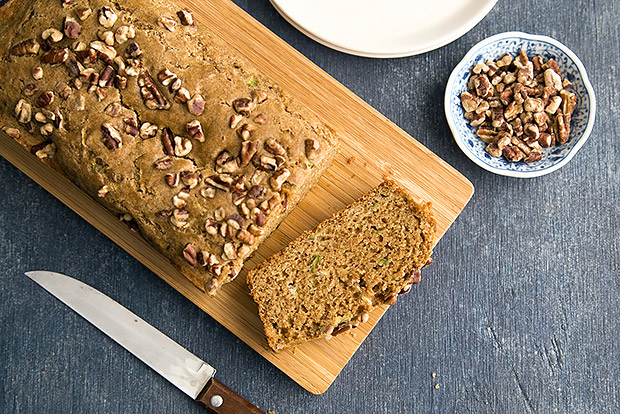 This recipe is egg-free and uses olive oil to reduce saturated fat and cholesterol. Whole wheat flour and zucchini add dietary fiber. Enjoy a slice with your morning coffee or tea, or serve it as a healthy summer dessert.
Nutrition Facts
Serving Size 1/10 recipe
Amount Per Serving
% Daily Value*
Trans Fat 0g
4%
Total Carbohydrate
10.7g
Sugars 2.1g
*
The % Daily Value (DV) tells you how much a nutrient in a serving of food contributes to a daily diet. 2,000 calories a day is used for general nutrition advice.
Yield: 10 slices
Preparation time: 15 minutes
Baking time: 35 minutes
Ingredients
1 cup whole wheat flour
1/2 tsp baking powder
1/2 tsp baking soda
1/4 tsp ground cinnamon
1/4 tsp salt
3/4 cup low-fat milk
1/3 cup extra virgin olive oil
1/3 cup raw sugar
1/2 cup shredded zucchini
2 tbsp chopped pecans (optional)
Directions
Preheat the oven to 325 degrees F. Spray an 8.5-by-4.5-inch loaf pan with non-stick cooking spray.
In a small bowl, stir together the flour, baking powder, baking soda, cinnamon, and salt.
In a separate medium bowl, whisk together the milk, olive oil, and sugar for 30 seconds.
Gradually add the dry ingredients to the wet ingredients and stir just until combined and a batter forms. Fold in the zucchini.
Pour the batter into the prepared pan. If using the nuts, sprinkle them over the top.
Bake for 30 to 35 minutes until a toothpick inserted in the center comes out clean. Let cool for 15 minutes before removing from the pan and slicing.