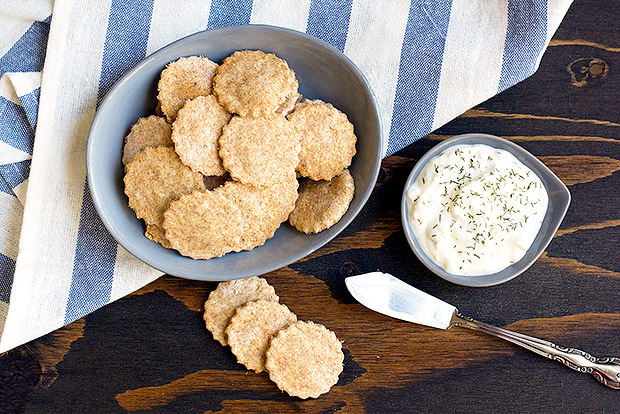 Crackers make a handy snack to pair with fresh vegetables or protein-rich hummus, but many store-bought options are loaded with sodium and refined grains. Making crackers at home is as simple as baking a batch of cookies. The result is a whole grain snack that you can feel better about eating.
Nutrition Facts
Serving Size 4 crackers
Amount Per Serving
% Daily Value*
Trans Fat 0g
4%
Total Carbohydrate
12.6g
Sugars 0g
*
The % Daily Value (DV) tells you how much a nutrient in a serving of food contributes to a daily diet. 2,000 calories a day is used for general nutrition advice.
Yield: 60 crackers
Preparation time: 25 minutes
Baking time: 20 minutes
Ingredients
1 ½ cups whole wheat flour
½ cup brown rice flour
½ tsp baking powder
½ tsp fine ground sea salt
¼ tsp ground black pepper
4 tsp olive oil
½ cup + 3 tbsp warm water
Directions
In a large mixing bowl, stir together the whole wheat flour, brown rice flour, baking powder, sea salt, and black pepper.
Stir in the olive oil. Add the water and continue to stir the dough until all ingredients come together. Transfer the dough to a lightly-floured surface and knead a few times until it can be formed into a ball. Place the dough ball back into the bowl, cover with plastic wrap and refrigerate for 10 minutes.
Preheat the oven to 350 degrees F.
Place the dough back on a lightly-floured surface and use a rolling pin to roll to 1/16-inch thickness (about the thickness of a penny). Use a cookie or biscuit cutter to cut the dough into 60 2-inch crackers.
Place the crackers on a baking sheet covered in a silicone mat or parchment paper. Bake for 20 minutes or until the edges are crisp and browned. Cool and store in an airtight container for up to 3 days.