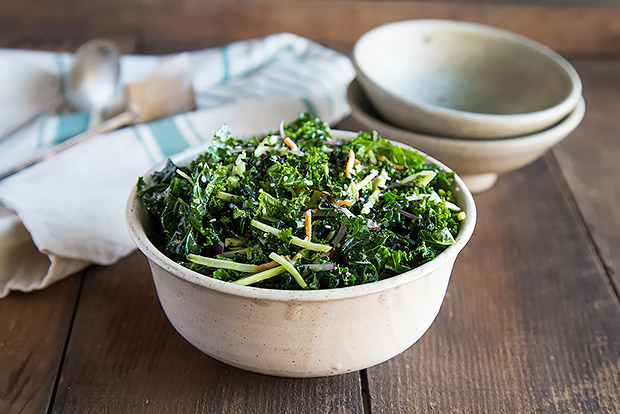 Kale and broccoli are two vegetables that are available year-round and are loaded with disease-fighting antioxidants. This salad combines them with a rich garlic dressing and nutty sesame flavors.
Tip: Roasted garlic is delicious in salad dressings and as a spread for sandwiches. Roast several heads early in the week and keep them in the fridge to use within a few days.
Nutrition Facts
Serving Size 1 serving
Amount Per Serving
% Daily Value*
Trans Fat 0g
5%
Total Carbohydrate
14.8g
Sugars 0.8g
Vitamin C 235%
Vitamin A 324%
*
The % Daily Value (DV) tells you how much a nutrient in a serving of food contributes to a daily diet. 2,000 calories a day is used for general nutrition advice.
Yield: 4 servings
Preparation time: 15 minutes
Cooking time: 45 minutes
Ingredients
1 head of garlic
2 tbsp olive oil
6 cups chopped kale leaves
¾ cup chopped broccoli slaw
¼ cup thinly sliced red onion
2 tsp unseasoned rice vinegar
1 tsp low-sodium soy sauce
¼ tsp honey
¼ tsp orange zest
1 tbsp toasted sesame oil
Optional toppings: sesame seeds, sunflower seeds, slivered almonds, chopped peanuts
Directions
Preheat the oven to 425 degrees F. Cut the top quarter off of the head of garlic so that the cloves are exposed. Set the head of garlic on a sheet of aluminum foil and drizzle with 1 teaspoon of the olive oil. Wrap the garlic in the foil and bake for 45 minutes. Remove from the oven and carefully open the foil to allow the garlic to cool.
Place the kale in a medium bowl and add 1 teaspoon of olive oil. With clean hands, massage the oil into the kale for about 2 minutes. Add the broccoli slaw and onion to the kale.
Squeeze the roasted garlic cloves into a separate large bowl. Discard the skins. Whisk the rice vinegar, soy sauce, honey and orange zest into the garlic until smooth. Next, whisk in the sesame oil and then the remaining olive oil.
Add the vegetables to the bowl with the dressing and toss to coat all ingredients. Sprinkle with optional toppings and serve.