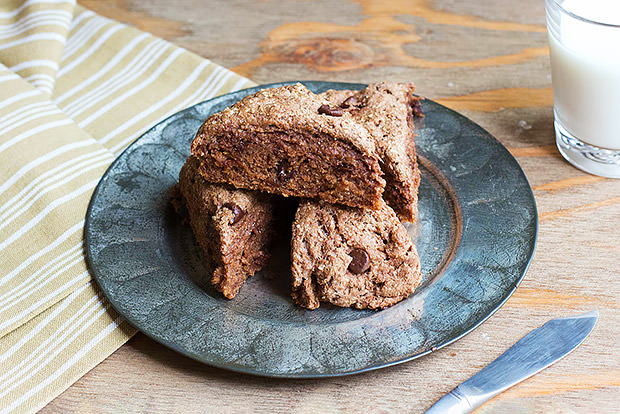 These scones provide a sweet breakfast treat that will cure a chocolate craving without ruining your eating plan. They are made with whole wheat flour for extra fiber and slightly sweetened with raw sugar and dark chocolate chips. They are a healthier option when compared to store-bought scones that can contain as many as 500 calories and 22 grams of fat.
Nutrition Facts
Serving Size 1 scone
Amount Per Serving
% Daily Value*
Trans Fat 0g
8%
Total Carbohydrate
22.7g
Sugars 6.6g
*
The % Daily Value (DV) tells you how much a nutrient in a serving of food contributes to a daily diet. 2,000 calories a day is used for general nutrition advice.
Yield: 8 scones
Prep time: 10 minutes
Bake time: 17 minutes
Ingredients
1 ¼ cups whole wheat flour
3 tbsp raw sugar
2 tbsp unsweetened cocoa powder
2 tsp baking powder
1/8 tsp fine ground sea salt
¼ cup cold unsalted butter, cubed
½ cup + 1 tbsp fat-free milk
2 tbsp dark chocolate chips
Directions
Preheat the oven to 400 degrees Fahrenheit.
In a medium bowl, stir together the flour, 2 tablespoons of the sugar, the cocoa powder, baking powder, and salt. Add the butter.
Use a pastry blender or two knives to cut the butter into the dough until all the ingredients are combined and the butter is evenly distributed in pea-size pieces.
Stir in the milk. Add the chocolate chips. Knead the ingredients into a thick dough until all ingredients are combined.
Place the dough on a greased baking sheet or a baking sheet covered with a silicone mat. Shape it into a flat, 6-inch circle. Sprinkle the remaining 1 tablespoon of sugar over the dough, and press it in gently. Use a pastry cutter or a knife to cut the circle into 8 equal wedges.
Leave the wedges intact and the scone dough in the circle, and bake for 15 to 17 minutes until the center is firm.
Let cool for 2 to 3 minutes, and then use the pastry cutter or knife to retrace the cuts to separate the scones into wedges. Serve warm or at room temperature.