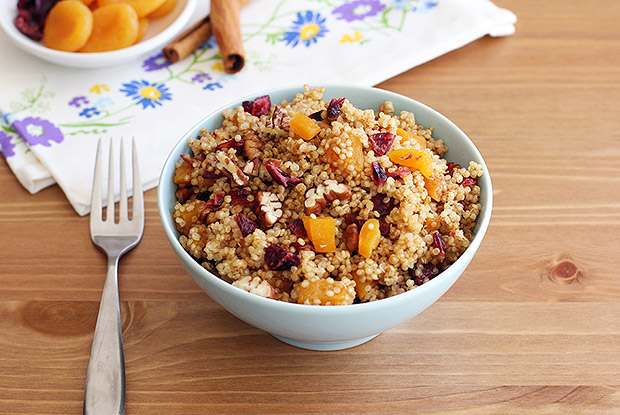 Eating quinoa for breakfast is a great way to get plant-based protein and fiber while enjoying the slight sweetness associated with cereals. This hearty meal will fill you up and power you through the mid-morning munchies.
Nutrition Facts
Serving Size 1 quinoa bowl
Amount Per Serving
% Daily Value*
Trans Fat 0g
17%
Total Carbohydrate
50.7g
Sugars 18.1g
*
The % Daily Value (DV) tells you how much a nutrient in a serving of food contributes to a daily diet. 2,000 calories a day is used for general nutrition advice.
Yield: 1 serving
Prep time: 5 minutes
Cook time: 20 minutes
Ingredients
¼ cup dry quinoa, rinsed and drained
2 dried apricots, chopped
1 tbsp dried cranberries, chopped
2 tsp chopped unsalted pecans
1 tsp pure maple syrup
¼ tsp ground cinnamon
Pinch of ground nutmeg
Directions
Heat a small saucepan on medium-high and add the quinoa. Toss the grains in the pan for 1 minute to lightly toast them. Add ½ cup water and bring to a boil.
Cover, reduce the heat to medium, and simmer for 12 to 15 minutes, until almost all the liquid is absorbed. Remove from the heat and let stand 5 minutes.
Transfer to a bowl and stir in the apricots, cranberries, pecans, maple syrup, cinnamon and nutmeg.
Serve warm or at room temperature.