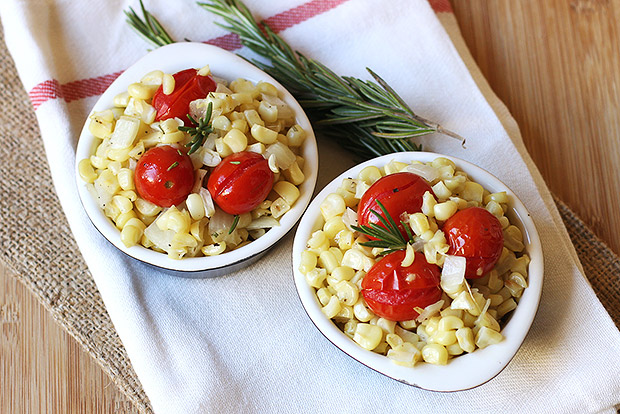 Herbs and spices are packed with disease fighting phytonutrients while giving seasonal vegetables a big boost in flavor. This salad uses rosemary, but basil and cilantro are other delicious options that go well with vegetable salads and side dishes.
Nutrition Facts
Serving Size 1/2 cup
Amount Per Serving
% Daily Value*
Trans Fat 0g
6%
Total Carbohydrate
17.1g
Sugars 13.2g
*
The % Daily Value (DV) tells you how much a nutrient in a serving of food contributes to a daily diet. 2,000 calories a day is used for general nutrition advice.
Yield: 4 servings
Preparation time: 5 minutes
Baking time: 12 minutes
Ingredients
3 ears of corn, kernels cut off
1 cup cherry or grape tomatoes
¼ cup diced onion
½ tsp extra virgin olive oil
½ tsp chopped fresh rosemary
¼ tsp sea salt
1/8 tsp ground black pepper
Directions
Preheat the oven to 400 degrees Fahrenheit.
Combine the corn kernels, tomatoes, and onion on a baking sheet. Drizzle with the olive oil, and then add the rosemary, salt, and pepper. Stir to coat the vegetables in oil and herbs.
Bake for 12 minutes, stirring halfway through. The corn will soften and brown slightly, and the tomatoes will begin to burst. Serve warm.