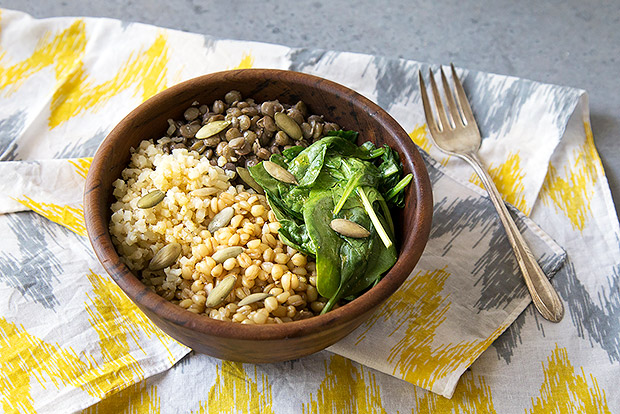 These healthy grain bowls are loaded with protein and dietary fiber. Cauliflower and spinach add vitamins and disease-fighting antioxidants. Make them over the weekend and store them in separate containers for on-the-go lunches during the week.
Nutrition Facts
Serving Size 1/4 recipe
Amount Per Serving
% Daily Value*
Trans Fat 0g
22%
Total Carbohydrate
65.6g
Sugars 6.7g
Vitamin C 110%
Vitamin A 30%
*
The % Daily Value (DV) tells you how much a nutrient in a serving of food contributes to a daily diet. 2,000 calories a day is used for general nutrition advice.
Yield: 4 servings
Preparation time: 15 minutes
Cooking time: 50 minutes
Ingredients
5 ½ cups water
1 cup dry wheat berries
1 cup dry brown lentils
3 tbsp extra virgin olive oil
16 oz. bag cauliflower rice, defrosted if frozen*
2 cups chopped fresh spinach
½ tsp garlic powder
½ cup fresh orange juice
1 tsp curry powder
¼ tsp fine ground sea salt
2 tbsp roasted pumpkin seeds
Directions
In a medium saucepan, bring 4 cups of water to a boil. Add the wheat berries. Reduce the heat to simmer. Partially cover with a lid and cook 45 to 50 minutes until tender but still slightly chewy. Drain any remaining liquid.
In a separate medium saucepan, bring 1 ½ cups of water to a boil. Stir in the lentils. Reduce the heat to simmer. Partially cover with a lid and cook for 20 to 30 minutes until the lentils are tender and all liquid has been absorbed.
While the grains and lentils cook, prepare the vegetables. Heat ½ tablespoon of olive oil in a large skillet over medium-high. Add the cauliflower and cook for 5 minutes, until tender and any liquid has evaporated. Add ½ tablespoon of olive oil to a medium skillet and heat over medium-high. Add the spinach and cook for 2 minutes, until the spinach begins to wilt. Stir ¼ teaspoon of garlic powder into the cauliflower and the remaining ¼ teaspoon into the spinach.
In a small bowl, whisk together the orange juice, 2 tablespoons of olive oil, curry powder, and sea salt.
In each of 4 serving bowls, arrange ¼ of the wheat berries, lentils, cauliflower, and spinach. Drizzle each with ¼ of the orange curry dressing. Sprinkle each bowl with ½ tablespoon of pumpkin seeds and serve.
*If you can't find cauliflower rice at your supermarket, you can make it by grating one large head of cauliflower by hand or in a food processor fitted with the grating attachment.