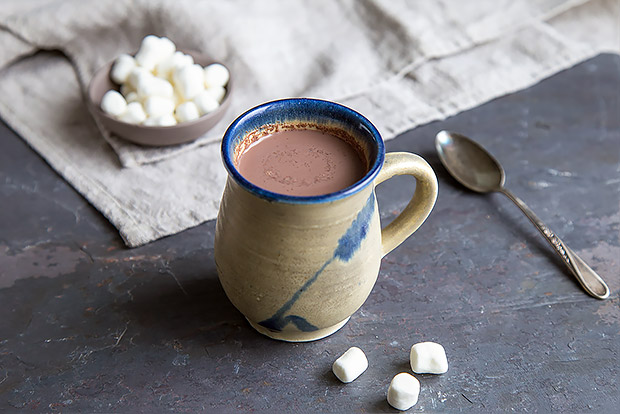 Making your own hot chocolate takes only minutes and allows you to reduce the sugar and artificial sweeteners found in store-bought mixes. This recipe uses milk to add protein and honey for natural sweetness.
Nutrition Facts
Serving Size 1 serving
Amount Per Serving
% Daily Value*
Trans Fat 0g
9%
Total Carbohydrate
26.9g
Sugars 20.6g
Vitamin C 0%
Vitamin A 10%
*
The % Daily Value (DV) tells you how much a nutrient in a serving of food contributes to a daily diet. 2,000 calories a day is used for general nutrition advice.
Yield: 1 serving
Preparation time: 5 minutes
Cooking time: 5 minutes
Ingredients
2 tbsp unsweetened cocoa powder
1 cup non-fat milk
1 ½ tsp honey
1/8 tsp ground cinnamon
Pinch of nutmeg
Pinch of chili powder
Directions
Place the cocoa in a small saucepan. Whisk in 2 tablespoons of the milk until mostly smooth. Continue to add the milk 2 to 3 tablespoons at a time as you whisk. Once half of the milk has been added, turn the heat to medium. Finish whisking in the milk as the hot chocolate begins to warm.
Add the honey and continue whisking until the hot chocolate is warmed through, about 5 minutes. Turn off the heat and whisk in the cinnamon, nutmeg and chili powder. Pour into a mug and serve.