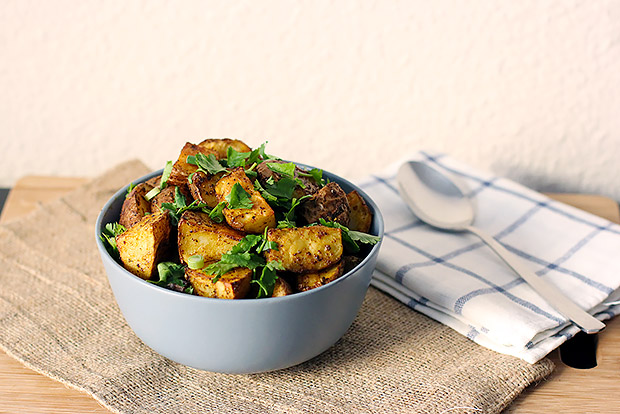 Potatoes have the reputation of being an unhealthy food, but when you remove the fat and salt often used in preparing them, their valuable nutrients have a chance to shine. Researchers have identified 60 types of phytochemicals and vitamins in potatoes. Nutritionally, this puts them in the same category as broccoli, spinach, and Brussels sprouts.
Adding flavorful spices to your potatoes reduces the need for excess butter, oil, and salt. These potatoes end up with a tender inside surrounded by a crispy, crunchy exterior. They are an ideal side dish for baked chicken or burgers, or top with a poached egg and serve them for breakfast.
Nutrition Facts
Serving Size 1/6 recipe
Amount Per Serving
% Daily Value*
Trans Fat 0g
12%
Total Carbohydrate
35.3g
Sugars 4.1g
*
The % Daily Value (DV) tells you how much a nutrient in a serving of food contributes to a daily diet. 2,000 calories a day is used for general nutrition advice.
Yield: 6 servings
Preparation time: 10 minutes
Cooking time: 40 minutes
Ingredients
2 lbs. red or white-skinned new potatoes, quartered
1 tbsp olive oil
½ tsp ground cumin
½ tsp chili powder
½ tsp dried oregano
1/8 tsp ground cinnamon
½ tsp salt
¼ cup chopped fresh cilantro
2 spring onions, sliced
Directions
Preheat the oven to 400 degrees Fahrenheit. Spray a baking sheet with non-stick cooking spray and set aside.
Place the cut potatoes in a large bowl. Add the olive oil and sprinkle in the cumin, chili powder, oregano, cinnamon, and salt. Use a large spoon to stir the potatoes until each piece is evenly coated in oil and spices.
Transfer the potatoes to the baking sheet and spread them in a single layer. Bake for 20 minutes. Remove from the oven and use a spatula to gently stir the potatoes to release any that may be stuck to the baking pan. Cook an additional 15 to 20 minutes, until the potatoes are browned and tender.
Transfer the potatoes to a serving bowl and sprinkle with the fresh cilantro and sliced spring onions. Serve warm.