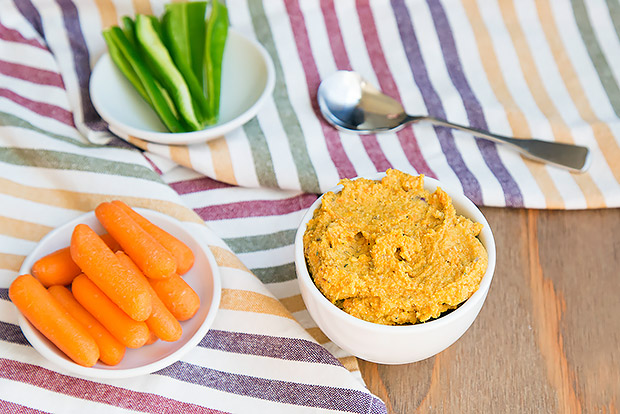 This recipe combines roasted vegetables with chickpeas and extra virgin olive oil to create a dip that provides protein, heart-healthy fat, and vitamins. Use it for dipping vegetables, as a spread for whole grain crackers, or as a filling for vegetarian sandwiches.
Nutrition Facts
Serving Size 1/4 cup
Amount Per Serving
% Daily Value*
Trans Fat 0g
Sugars 2.2g
*
The % Daily Value (DV) tells you how much a nutrient in a serving of food contributes to a daily diet. 2,000 calories a day is used for general nutrition advice.
Yield: About 2 cups
Preparation time: 20 minutes
Cooking time: 25 minutes
Ingredients
1 cup chopped carrots
1 cup cauliflower florets
½ cup chopped red onion
2 cloves garlic
3 tbsp extra virgin olive oil
1 can (15.5 oz.) low-sodium chickpeas, drained
½ tsp fine ground sea salt
¼ tsp ground black pepper
¼ tsp dried basil
1/8 tsp ground coriander
Directions
Preheat the oven to 425 degrees Fahrenheit.
Place the carrots, cauliflower, onion, and garlic cloves in a medium bowl. Pour 1 tablespoon of the olive oil over the vegetables and toss to coat. Spread the vegetables in a single layer on a baking sheet sprayed with non-stick cooking spray.
Roast the vegetables for 25 minutes. Stir one time about halfway through the cooking time. Remove from the oven, and let cool for 10 minutes.
Add the chickpeas to the bowl of a food processor. Add the cooled vegetables, salt, black pepper, basil, and coriander. Puree on high for about 20 seconds, or until the mixture turns into a spreadable paste and all vegetables are finely chopped. Scrape the sides of the bowl as needed.
Add the olive oil. Puree for 30 to 45 more seconds, until the mixture becomes somewhat smooth. Remove from the food processor and serve.