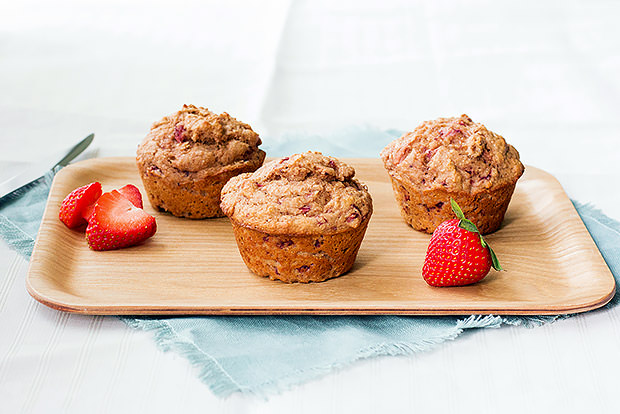 Muffins make a quick breakfast when you are on the go, but store-bought varieties are often loaded with calories and saturated fat. You can make a healthier muffin when you prepare them at home. The mashed strawberries and applesauce in this muffin reduce the need for added sugar and oil. Whole wheat flour adds fiber to make them more filling.
Nutrition Facts
Serving Size 1 muffin
Amount Per Serving
% Daily Value*
Trans Fat 0g
8%
Total Carbohydrate
23.8g
Sugars 9.3g
*
The % Daily Value (DV) tells you how much a nutrient in a serving of food contributes to a daily diet. 2,000 calories a day is used for general nutrition advice.
Yield: 6 muffins
Preparation time: 15 minutes
Bake time: 20 minutes
Ingredients
½ cup sliced fresh strawberries, mashed
¼ cup unsweetened applesauce
2 large eggs
¼ cup raw sugar
½ tsp pure vanilla extract
2 tsp baking powder
¼ tsp fine ground sea salt
1 cup whole wheat flour
Directions
Preheat the oven to 350 degrees Fahrenheit. Spray a standard 6-muffin baking tin with non-stick cooking spray.
In a medium bowl, stir together the mashed strawberries and applesauce. Stir in the egg until all ingredients are mixed together. Stir in the raw sugar and vanilla extract.
Add the baking soda and salt. Stir well until there are no longer any white clumps from the baking soda.
Fold in the flour and mix just until all ingredients are incorporated into a batter. Transfer the batter to the muffin tin, filling each slot with an equal amount.
Bake for 18 to 20 minutes, or until a toothpick inserted into the center of the muffins comes out clean. Let cool for 5 minutes, remove from the muffin tin and serve warm, or transfer to a wire rack to cool completely.