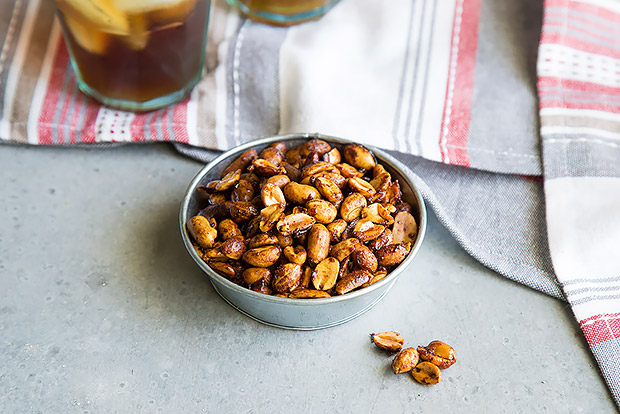 Peanuts contain protein and heart-healthy fat for a quick snack that will keep you feeling full. You can give plain peanuts more flavor while controlling sugar and sodium by making these sweet and spicy peanuts at home.
Nutrition Facts
Serving Size 1/8 recipe
Amount Per Serving
% Daily Value*
Trans Fat 0g
2%
Total Carbohydrate
6.9g
Sugars 3.5g
*
The % Daily Value (DV) tells you how much a nutrient in a serving of food contributes to a daily diet. 2,000 calories a day is used for general nutrition advice.
Yield: 8 servings
Preparation time: 5 minutes
Baking time: 8 minutes
Ingredients
1 tbsp honey
1 tbsp extra virgin olive oil
¼ tsp ground cayenne pepper
1/8 tsp smoked paprika
1/8 tsp fine ground sea salt
1 ½ cups raw, unsalted peanuts
Directions
Preheat the oven to 425 degrees F.

In a medium bowl, stir together the honey, olive oil, cayenne pepper, paprika and salt.

Add the peanuts and stir well to coat them evenly.

Pour the peanuts onto a non-stick baking sheet or a baking sheet covered in parchment paper. Spread in a single layer.

Bake for 5 minutes. Remove from the oven and stir. Bake for an addition 2 to 3 minutes, until golden brown. Watch them carefully because they can brown and burn quickly in the last few minutes.

Allow to cool completely before serving. Break apart and then blot gently with a paper towel if any excess oil appears on the nuts.